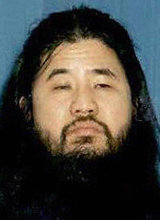 Shook Asahara (also known as Chizuo Matsumoto), the leader of the Aum Shinrikyo cult, which shocked Japan by carrying out a sarin gas attack on the Tokyo subway in 1995, was executed on Friday morning, according to Japanese media, including NHK. Six other members of the cult, who were sentenced to death on the charge of murder, were executed on the same day.
The Aum Shinrikyo cult, which was founded in 1986, released sarin gas on three Tokyo subway lanes on March 20, 1995, killing 13 people and injuring some 6,200 people. Indiscriminate attack on innocent people on their way to work traumatized the nation.
The trials ended in 22 years when Katsuya Takahashi, the final suspect in the attack, was sentenced to life in prison in January. Many speculated that the execution was imminent when seven out of 13 prisoners were transferred from Tokyo Detention Center to five detention centers across the country in March.
Japanese media published extra editions, reporting that the doomsday cult leader was executed on Friday. Shizue Takahashi, whose husband died in the attack, said the execution was fitting, adding that "But it is regrettable that we won't be able to hear how things really happened in order to prevent similar cases from happening again." Of the fact that the leader Matsumoto did not open his mouth about the truth of the attack," Asahi Shimbun wrote, "The truth of the incident is buried in darkness forever."
Young-A Soh sya@donga.com