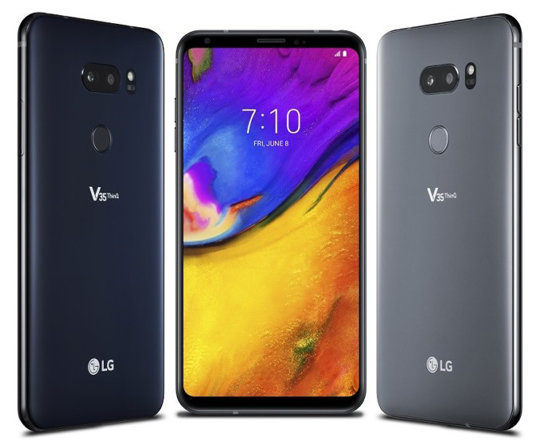 LG Electronics will unveil the V35 ThinQ, the latest of its premium smartphone Z series sold since the second half of last year, on Friday. It will be a transitional model to the V40 ThinQ, scheduled for release at the end of the year.
The V35 ThinQ combines key features of the V30 released last September and the G7 released in May this year. By using the V30 platform, it features slim and light designs and inherits OLED FullVision displays with 18:9 aspect ratios. FullVision has bezel-less features that make screens look bigger than they actually are. "We have provided wider options for customers who prefer OLED for their natural color and more distinctive light and shade, compared to LCD," explained an employee at LG. The premium smartphone G series, released in the first half of the year, is featuring LCD.
The new model also has G7 ThinQ camera, artificial intelligence services and other flagship software functions. It features G7 ThinQ functions that have won favorable response from customers, such as the AI camera, which recognizes the subject and recommends image quality; and the Q lens, which informs the user information on the subject, and the Super Bright Camera, which allows users to capture images that are up to two times brighter.
Jae-Hee Kim jetti@donga.com