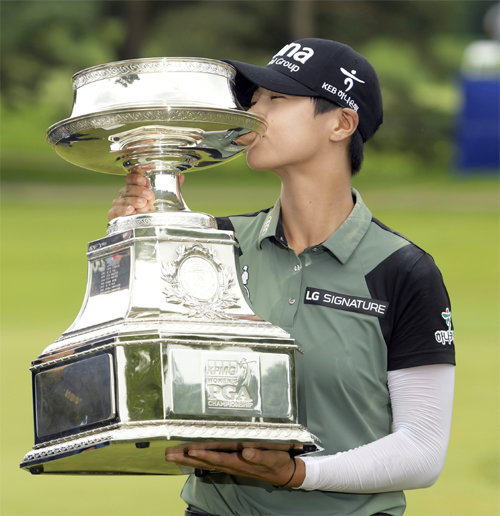 After making her second shot in hole 16, Korean golfer Park Sung-hyun gestured to throw her 54-degree wedge. The ball was buried deep in the bush, and it seemed almost impossible to take it out as the grass was tough. David Johnson, Park's caddie, had to walk into the waters in his shoes to locate the ball.
Then, the 25-year-old performed an impeccable lob shot with her 58-degree wedge from the water hazard area, sending it up 50 centimeters to the pin. It was this dramatic par save that allowed Park a second playoff that ultimately led to her second major championship title. Tears came down her cheeks after the championship was secured.
In Round 4 of the KPMG Women's PGA Championship on Sunday, Park Sung-hyun pulled off three birdies without bogey and closed her third major LPGA competition with a three-under 69, tying with Ryu So-yeon and Nasa Hataoka at 10 under. In the second playoff, Park sank her 2.7-meter birdie putt and lifted the championship trophy, outperforming her South Korean competitor Ryu So-yeon, who missed her 4.5-meter birdie putt by a whisker.
This is her second win since the Texas Classic, which was shortened to 36 holes after two days of rain in May, and this also marks her second major championship since the U.S. Women's Open last year.
Jumping from 35th to fifth in the prize money ranking with an addition of 546,000 dollars, Park said, "I cannot believe that the trophy is right beside me."
"I have been going through rough times this year, and it feels like I've been compensated," she said. "This is the first time that I've ever cried after the last putt, and I was really happy."
Jong-Seok Kim kjs0123@donga.com