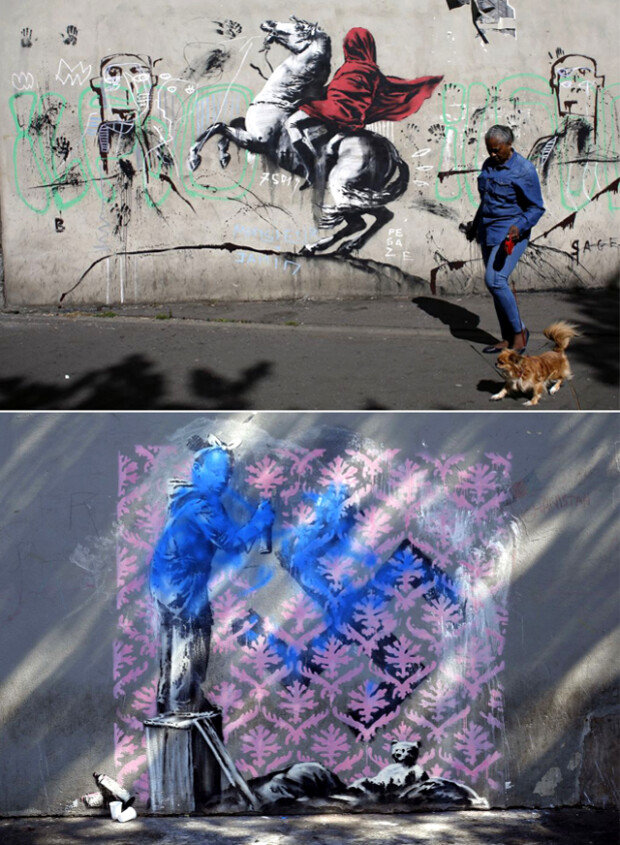 The obscure British graffiti artist Banksy left urban murals in several places in Paris to honor the spirit of resistance and social criticism in commemoration of the 50th anniversary of the 1968 Revolution of France before he disappeared. The 1968 protest was a social movement characterized by student and laborer rebellions against the authoritarianism of bureaucratic elites.
Banksy has painted walls in Paris with murals on the theme of migration. One mural shows a refugee girl spraying a pink flower pattern over a swastika.
On the same day, Banksy uploaded a picture of a masked rat holding a utility knife and wrote, "Fifty years since the uprising in Paris in 1968. The birthplace of modern stencil art." Rat, which appear frequently in Banksy's paintings, is a symbol of the vilified and the downtrodden. The mural was found on the back of a street sign near the Pompidou Center, while a painting commemorating the victims of a terrorist attack that occurred three years ago also appeared near the Bataclan theatre.
When news spread that the mural of a refugee girl was painted by Banksy, somebody partly painted over the mural with blue paint. Paris Mayor Anne Hidalgo welcomed Banksy's works in a Twitter message: "Sometimes an image is worth a thousand words. Humanity and pragmatism rather than populism."
Taek Kyoon Sohn sohn@donga.com