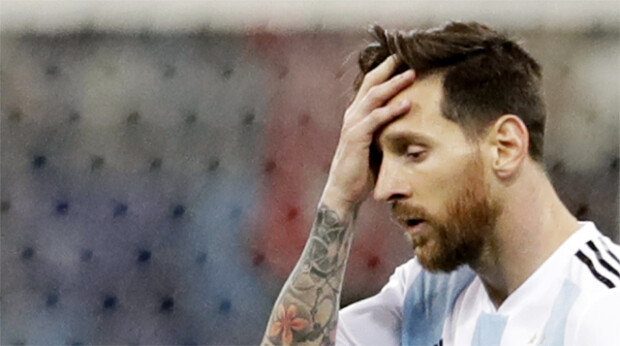 Argentina suffered a humiliating defeat to Croatia in its Group D match of the 2018 World Cup in Russia, which took place on Friday. Ranked third overall in the group with one win and one loss in two matches, Team Argentina is close to disqualification.
The powerhouse team advanced all the way to become the runner-up at the 2014 World Cup in Brazil. But in this year's event, the team must beat Nigeria in its final match of the group league, while paying attention to the outcome of matches to be played by Iceland with which it is competing to secure the group's second place.
Soccer star Lionel Messi kicked 11 shots in Game 1 against Iceland, but he only had one shot on Friday. Messi played not only a striker but also a playmaker by posting 133 passes while striving to support his team in the match against Iceland. In the latest match against Croatia, however, he only posted 56 passes, or less than half of what he recorded in the previous match. Messi's offensive capabilities and pass play completely collapsed.
What is more serious is Team Argentina. Since the team only depends on Messi's performance, other players failed to display notable performance. The team's roster includes world-class players including Sergio Aguero and Javier Mascherano, but they hardly presented teamwork play.
Croatia's Ante Rebic scored the first goal of the match by making most of Argentine goalie's mistake at the eighth minute in the second half, before Luka Modric scored at the 35th minute and Ivan Rakitic during extra time in succession, to crush Argentina and secure its win. It is the first time in 60 years that Argentina suffered a loss by a difference of three goals or more in the group league since the 1958 World Cup in Sweden when it lost 1-6 to Czechoslovakia.
Bae-Jung Kim wanted@donga.com