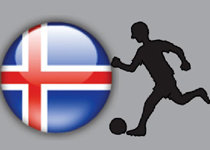 Iceland is known as "heaven of authors." BBC reported one out of 10 Iceland citizens publish a book. Not all of them are fulltime writers, and most of them have another job such as a tour guide. Halldor Laxness who received a Nobel Prize by writing a book in Icelandic is a person that the country is proud of.
Iceland became independent of Denmark in 1944. It is said that descendants of the Vikings took an interest in finding their identity through stories and literature after gaining independence. The small island country with 330,000 residents — the size of Dobong District, Seoul — has often crowded columns of newspapers all around the world when it took the bailout from the International Monetary Fund during the 2008 financial crisis and when volcanic eruption paralyzed its flights in 2010. Unfortunately, both were negative news.
This time, Iceland is garnering attention of the world with positive news coverages — It recorded seven wins, one draw and two losses in the World Cup preliminary matches, and made it to the World Cup quarter finals for the first time. It drew with Argentina by 1-1 in the first G group match in Moscow Saturday. It is as good as a win because a team that was out of the picture drew with the forever favorite. The hero on that day was goal keeper Hannes Halldorsson who saved a penalty kick of the superstar Lionel Messi. It is all the more surprising because many players are not fulltime athletes including Halldorsson who is a dentist.
One unique thing about this team is that all players have a name ending with "sson." A lot of Icelandic names do not have a surname. The name comes at the end means "a daughter of someone" or "a son or someone," which is why a lot of them end with "dottir" (daughter) or "son" (son). Three thousand Icelandic people, which is about 1 percent of the population, visited the stadium to root for their country. It is indeed an interesting country where volcanoes and ice coexist and writers become football players. What on earth is in Iceland?