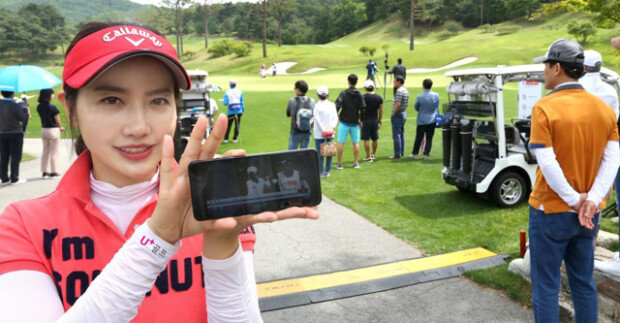 Clicking on "Kim Ji-hyun Wood Off the Tee" video from the list of swings from the 6th Charities Open on Friday, Kim's swing from a few moments ago played back in slow motion. The video could be fast forwarded and replayed, letting viewers see the swing in motion.
This service is the new golf streaming service "U+ Golf" launched in April by LG Uplus. LG Uplus demoed the service Friday at Icheon South Spring CC where the Charity Open was being held. U+ Golf differentiates itself from other Golf TV, which shows different players in succession by allowing viewers to watch only the popular players through its "Popular Players Exclusive Broadcasting" function. Services such as "Watch Player Swings" and "Watch the Previous Hole" are also unique to U+ Golf, which is unavailable on regular TV.
Launching the U+ Golf mobile app, it did not just have the SBS Golf channel, which has the KLPGA exclusive broadcasting rights, but also screens showing KLPGA stars Ahn Song-yi and Kim Ji-hyun competing. Touching this screen, it showed the players during the competition but also the players discussing strategy with the caddie while moving to next hole or even snacking. Unlike other golf channels where your favorite player would occasionally be shown, you are able to constantly follow your player throughout the entire competition.
LG Uplus is currently offering U+ Golf complimentary to its members. For a month in June, this service will be accessible via a mobile app to members of SK Telecom and KT, free of charge. In July, the company will introduce U+ Golf will with its IPTV "U+TV" and will continue to expand this service offerings.
Sung-Gyu Kim sunggyu@donga.com