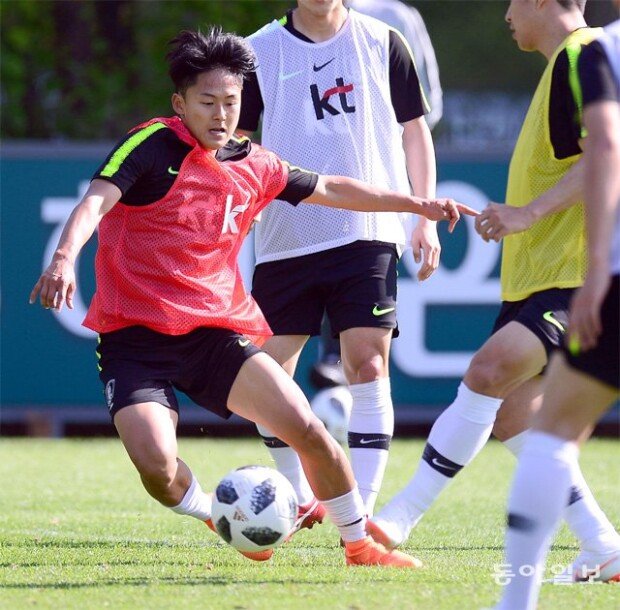 "I want to win again next time, without the 'youth' title."
The manager of a national sports team usually expects the team's younger player to display an ambitious image. Football player Lee Seung-woo, who won the 2017 Youth Player of the Year title by the Asian Football Confederation at the Paju National Football Center on Thursday, definitely lived up to his expectations. The title was awarded to Lee almost six months after the original awarding ceremony (held in Bangkok last November), due to the team's schedule. Exuding with confidence, Lee has two rounds of tryout matches ahead of him, with Honduras on Monday and Bosnia on Friday next week, which will determine whether he will be included in the national football team for the 2018 World Cup.
"I am happy to be part of the national team where the best players are. I learn a lot from my seniors and that will help me grow," Lee said.
Twenty-six players from the national team, including Lee, will embark on a rigorous training program at the Paju training center, starting on Wednesday. When the list of players was announced last Monday, Lee was included, to everyone's surprise. Ten days later, Lee's position in the national team has shifted. Initially Lee was seen as bordering on the intense competition within the team. Since the list was determined, however, the injuries of key players, including Kwon Chang-hoon (23, Dijon) and Lee Gun-ho (33, Gangwon), have forced them to drop out of the team. This raises the chance of Lee Seung-woo to remain in the team as a key striker.
Known for his intense desire to win, emotional expressions and bleached hair, Lee had been at times seen as arrogant. But his strong personality and confidence have been the driving force behind Lee's growth. It is interesting to note how Ki Sung-yueng (29, Swansea City), the leader of the Korean national team, pointed to Lee as a player who can make it big in the World Cup games in Russia.
The 2018 World Cup is a much desired opportunity for Lee, who has gone through a lot. Trained at the Barcelona Youth Academy, Lee was seen as a rising star but struggled when he was penalized for violating FIFA rules concerning the recruitment of players under 18 in February 2013. He was unable to compete in official games for almost three years, when he was 15-18. After an unwanted break when he should have played to his fullest, Lee transferred to Hellas Verona, an Italian professional football team, in August last year.
Lee is known for his quick foot moves and skills, which can be useful in Korea's first match with Sweden. Sweden is viewed as physically strong, but relatively slow. Experts say that the Korean team should leverage swift players to penetrate into the Sweden team. Lee is expected to perform such role.
Jae-Hyeng Kim monami@donga.com