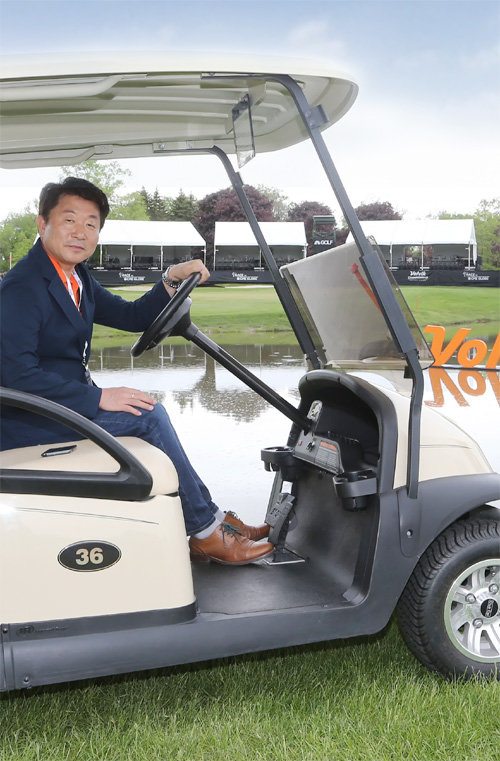 Ann Arbor in Michigan is a small city with a population of a mere 110,000 in the United States. For the past three years, the city is surrounded by the fervor of golf around this time of the year. This is because Volvik, a Korean golf ball enterprise, opens professional golf tournament of the Ladies Professional Golf Association.
"I am very proud to hold the LPGA tour for the first time as a Korean golf product company," said Volvik Chairman Moon Kyung-ahn. "This is the last year of the contract and I would like to achieve the merit of a successful conclusion."
It has been analyzed that Volvik was able to raise the degree of its recognition as a global brand. "The amount of turnover in the global golf market including the United States and Japan increased conspicuously," said Moon. "I was able to open the path for export in various areas such as Europe and Africa."
According to Volvik, the amount of turnover in the United States increased to 12 million U.S. dollars last year from 2.75 million dollars in 2015. "We are sailing smoothly towards this year's overseas export target of 30 million dollars. The issue of product supply is also expected to be resolved as soon as the construction of the second factory is completed this summer in Eumseong, North Chungcheong Province," remarked the chairman.
As Volvik has become a role model of opening the LPGA tournament, which was thought to be exclusively for domestic conglomerates, other small and mid-sized domestic companies are participating as well.
During the tournament period, Volvik throws in 30,000 golf balls including 10,000 into the driving range. Moon also said that Volvik is planning to participate actively in color ball fitting events by advertising new products including vivid color balls with a matte finish." "Golfers will be able have an effect by choosing the color of balls based on their personality. If you have an impatient personality, you can control your mind with soft colored balls such as yellow," Moon said. "Reddish color balls are helpful for a golfer with a conservative personality."
Moon, who has been leading Volvik since acquiring it in 2009, dreams of becoming a small yet strong company with a global brand power. "Substantial support from the government is desperate in research and development and marketing activities," he added.
Jong-Seok Kim kjs0123@donga.com