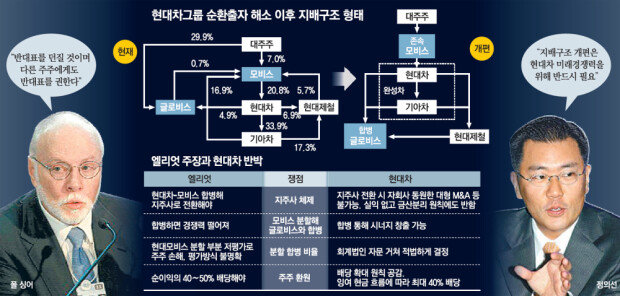 Hyundai Motor Group and U.S. activist fund Elliot will face a battle of vote on a restructuring plan of the group. As Elliott declared strong opposition to Hyundai Motor's plan to streamline its ownership structure through a spin-off and mergers, Hyundai Motor Group Vice Chairman Chung Eui-sun said "We will not be fazed by Elliot," preparing to defend Elliot's attack. With the day of decision approaching, shares of three key affiliates of Hyundai – Hyundai Motor, Hyundai Mobis and Hyundai Glovis – will be fluctuated violently. On May 29, shareholders are scheduled to vote on a reorganization of the group.
U.S. activist fund Elliot Management said in a statement on Friday that it will vote against Hyundai Motor's restructuring plan and urged other shareholders to reject the proposal to reform the group. Activist hedge funds make high returns in a short period of time by participating in the management and decision-making in a company that the funds hold large enough shares.
Elliott, one of the most tenacious hedge funds, has found its target Hyundai Motor. The fund disclosed that it holds more than one billion dollar worth of shares in the aforesaid Hyundai Motor's three key affiliates and started to exert their power to force the South Korean automaker to increase their returns. Previously, the fund said it welcomed the group's move to reform its ownership structure. However, Elliott later called on the group to take more significant measures and soon showed its teeth, vowing to vote against Hyundai Motor's restructuring deal.
Hyundai Motor Vice Chairman Chung, who has so far avoided public statement, is responding differently. "The restructuring is a necessary process for Hyundai Motor to strengthen its competitiveness in the future," Chung said. Corresponding to the view held by the group's heir, Hyundai Motor has taken firm stance unlike when it first responded that they would listen carefully and review opinions. Inside the group, many anticipate Hyundai Motor would win over shareholders, citing Elliott holds just a 1.4 percent stake in Hyundai Motor Group's affiliates.
Observers say Hyundai Motor will not likely to accept Elliott's demands to pay higher dividends. The group will push forward with its restructuring plan, on the strength of remarks by the chief of South Korea's antitrust agency calling Elliott's demands "illegal." Hyundai Motor Group Chairman Chung Mong-koo and the group's affiliates own a total of 31.1 percent of stake in Hyundai Mobis. The question is how many foreign shareholders the activist hedge fund will be able to have at its side, and whom the state-run National Pension Service will be in favor of: these could be a game changer.
nabi@donga.com · bjk@donga.com