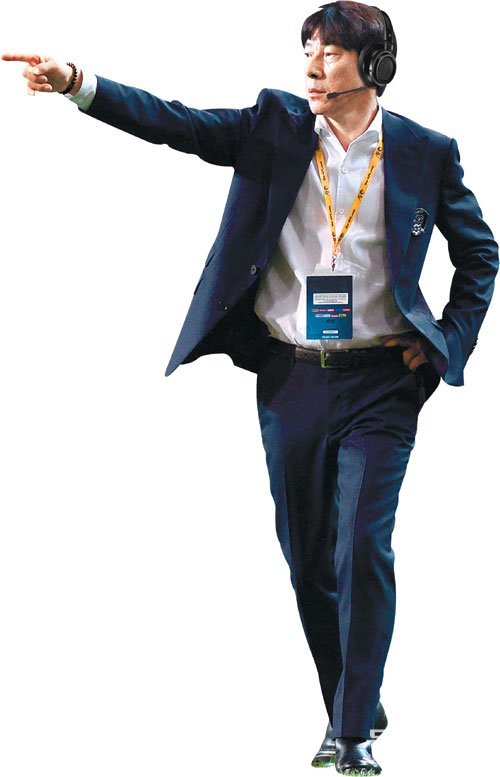 "If you look at a match from the bench, what comes into sight is the movement of players directly related to the ball's directions. From high above, however, you can see the movements of both teams at a glance," said Shin Tae-yong, head coach for the South Korean men's national football team. He is known for his nickname "Fox on the ground" and is a so-called devotee of "stands." In April last year, when he was serving as head coach for South Korea U-23, Shin came out of the bench and went up to the stand to check the movements of players during a practice game with K League 1 Jeonbuk.
An episode that took place in 2009 during his time as coach of Seongnam also drew attention. Given a red card during the match with Incheon while challenging the referee, Shin gave his directions from above the stand to the coaching staff via a walkie-talkie originally used by the club's workers, leading the team to victory.
Currently, all eyes are on Shin and whether he will be able to prove the effectiveness of "watching a game from the stand" yet again at the 2018 FIFA World Cup Russia. The use of electronic devices at the bench had been banned, but the FIFA allowed real-time communication between coaching staff members between the bench and the stand (press table) through headset devices starting from the upcoming World Cup in Russia. Thus, coaches now can go up to the stand and update the head coach on various information about the match. Still, they should be mindful that their team's strategies and tactics are likely to be exposed to the opposing team.
"Now we are able to visually convey specific information to our players such as their mistakes during the first half and the opposing team's weaknesses through a video clip that is a couple of minutes long," said an official at the football team. As a game's real-time analysis becomes more important, the South Korean national football team has been increasingly focused on strengthening the capabilities of coaching staff. As part of such efforts, the team recently scouted Garcia Hernandez (64), former Real Madrid assistant coach, whose job will be analyzing tactics and key players.
Yun-Cheol Jeong trigger@donga.com