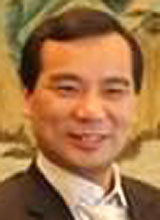 A Chinese court on Wednesday sentenced the grandson-in-law of Chinese late leader Deng Xiaoping to 18 years in prison for corruption and fraud. China's official Xinhua News Agency reported that the Shanghai Municipal No. 1 Intermediate People's Court handed the prison term to Wu Xiaohui, former chairman of Anbang Insurance Group who is married to Deng's granddaughter Zhuo Ran, ordering the seizure of 10.5 billion yuan (1.6 billion U.S. dollars) worth of his property and the suspension of his political rights for four years.
The Chinese media portrayed Wu's case as the largest ever fraud in China's history of financial crimes. Wu was arrested last year on charges of illegally raising funds by spreading false information after winning the state insurance watchdog agency's approval. Following his arrest, there were expectations that he would get a life sentence.
Some speculate that there was a power struggle among China's power because Wu is Deng Xiaoping's grandson-in-law. Wu expanded his business by taking advantage of his connections with China's top leaders. In 2016, Anbang took over Tong Yang Life Insurance Co. and Allianz Life, which is now ABL Life Insurance Co. China's insurance regulator is managing Anbang for one year after it took over managerial control over the insurer following Wu's indictment.
Known for his aggressive acquisition of foreign companies, Wu caused controversies by having a secret meeting with U.S. presidential adviser Jared Kushner, the son-in-law of President Donald Trump, right after the U.S. presidential election in 2016. Reportedly, Wu met Kushner at a New York hotel in November 2016 to ask for economic assistance.
Wan-Jun Yun zeitung@donga.com