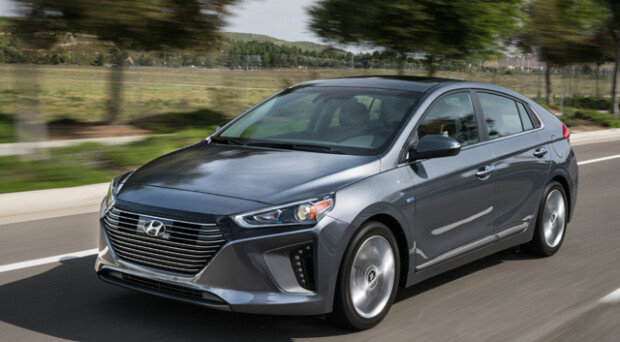 Hyundai Motor Company's representative environmentally friendly hybrid model Ioniq became the most sold car in Israel in the first quarter of this year. This is the first time ever for a hybrid car of the South Korean automaker to be ranked first in the list of the most sold cars at home and abroad.
A statistics released Tuesday by the auto industry found that the sales of Ioniq increased by 121 percent from the same period a year earlier to stand at 4,149 units. Hyundai's non-hybrid model Tucson followed the lead with 3,754 units and Kia's Sportage with 3,453.
The incentive for environmentally friendly cars by the Israeli government has played a key role in Ioniq's popularity. The Israeli government levies a purchase tax of 83 percent on non-hybrid cars while imposing only a 20 percent purchase tax on hybrid cars. This boosts cost competitiveness of hybrid cars.
Another factor of Ioniq's success lies in the high popularity of Hyundai automobiles in Israel. The number of Hyundai cars sold in Israel in the first quarter of this year amounts to 14,898, which is at the top of the list, followed by Kia cars with 11,832 units. Israel is literally the "sacred place" for Hyundai-Kia Automotive Group. Kia's hybrid model Niro sold 2,515 units in the first quarter of the year while Toyota's Prius sold only 475 units.
Hyundai-Kia Automotive Group is utilizing the popularity it is enjoying in Israel in developing its future competitiveness, such as autonomous driving technology. Hyundai Motor Company announced in November last year that it would establish Open Innovation Center, which is in charge of collaboration with Israeli venture companies. The center is now in preparation for the opening.
In September last year, Israel Institute of Technology Technion, which is considered the home of Israeli venture companies, and the Korea Advanced Institute of Science and Technology (KAIST) signed business agreement to form a global consortium. Hyundai Motor Vice Chairman Chung Eui-sun is personally leading the cooperation with Israel's Mobileye, the global leader in autonomous driving technology.
Woo-Shin Han hanwshin@donga.com