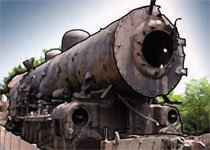 In November 2006, a crane lifted a heavy lump of metal at Jangdan Station surrounded by overgrown weeds in the Demilitarized Zone (DMZ) of Paju, Gyeonggi Province. Fifteen meters in length, 4 meters in height, and 70 tons in weight, it was a locomotive that departed from Gaesong, bombed and derailed while entering the station on December 31, 1950. The train's surface is scarred with numerous bullet marks, and wheels are smashed and damaged. The symbol of the division of the Korean Peninsula was finally moved to Imjingak after 56 years.
The train went through the conservation process for the next two years. It took about six months for a dozen conservation experts only to remove the rust. It was a tricky process because the surface had to remain intact and feel old enough despite rust removal. Back then, the steel-making company POSCO paid for the conservation works for the purpose of supporting iron artefacts. The locomotive is now being displayed at the southern part of the Bridge of Freedom in Imjingak.
Before the outbreak of the Korean War, people could go to Mount Kumgang by taking Gyeongwon Line from Seoul and go through Yeoncheon Station and Sintan-ri Station until they get to Cheorwon Station to transfer to a train bound for Mount Kumgang. However, Gyeongwon Line and Kumgang Line have been all cut off. Cheorwon Station within the Civilian Access Control Line was also ruined during the Korean War, and now some of its old railroads and ties, rusty signal flags remain abandoned at the site. The next stop from Cheorwon Station is Woljeong-ri Station, close to the Southern Limit Line. At the station, the wreck of a train attacked in June of 1950 still remains, all crushed like crumpled pieces of paper with its frames laid bare. Next to the ruins, a sign board says, "A railroad train wants to run."With the latest inter-Korean summit, an increasing number of people are visiting Imjingak in Paju to take a look at the train at Jangdan Station. Expectations are also high that an integrated railroad network will be built on the Korean Peninsula by restoring Gyeongwon Line and Gyeongui Line. All sounds encouraging, but there is still a long road ahead of us. We need to continuously monitor the results of the U.S.-North Korea summit and keep pace with the international community with regards to economic sanctions on Pyongyang. Still, it is hard to deny that just imagining to go to Mount Kumgang by taking Gyeongwon Line through Woljeong-ri Station and Cheorwon Station makes us immensely happy.
Kwang-Pyo Lee kplee@donga.com