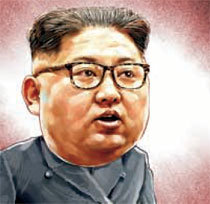 North Korea's state-run Korean Central News Agency, KCNA, reported Tuesday on that North Korean leader Kim Jong Un visited the Chinese Embassy in Pyongyang at 6:30 a.m. Monday. The North Korean leader visited the Chinese Embassy to express his condolences in less than 12 hours since the tragic car accident occurred in North Hwanghae Province Monday night, where 32 Chinese were killed. It is extremely unusual for North Korean media to reveal Mr. Kim's time of visit by the minute. This is also Kim Jong Un's first time to visit the Chinese Embassy ever since he came into power.
Like his father Kim Jong Il, the ling of the hermit country is known to be a nocturnal, who works until late at night. The picture of Kim Jong Un in mourn with his hands together side by side with the Chinese ambassador that was put on the first page of Rodong Sinmun, looks rather bloated as if he is still half asleep. It has been said that Kim Jong Un promised to "take follow-up measures with utmost sincerity." He even showed up in the hospital where the injured were staying and consoled them in a white gown for doctors. He appears to be reacting quickly.
The accident occurred on when a bus carrying staffs of a Beijing tour agency including Chinese was heading back to Pyongyang after visiting Kaesong. The bus seemed to have crashed while driving on an unpaved road rather irrationally in heavy to avoid a highway between Kaesong and Pyongyang, which was under complete control for maintenance to prepare for the upcoming inter-Korean talks. Kim Jong Un, who was seeking "revolutionary change" in its foreign relations through a succession of summits, acted quickly to have this tragic accident in control so as to prevent any unexpected negative effect that may bring anti-North Korea sentiment within China.
The performance Kim Jong Un showed is a perfectly normal measure that the leader of a country where casualty of foreigners occurred ought to take. Nonetheless, Mr. Kim's actions are seemingly unfamiliar. Every time, the death of a privileged North Korean by car accident was always followed by doubt that it may be an assassination behind the veil of an accident. Furthermore, the accident this time occurred on the same day as the explosion that broke out in a North Korean railroad station in 2004, where there were rumors of an attempt to assassinate Kim Jong Il, which is already on the verge of making all kinds of conspiracy. In a closed autistic country, even the normal seems strange and odd.