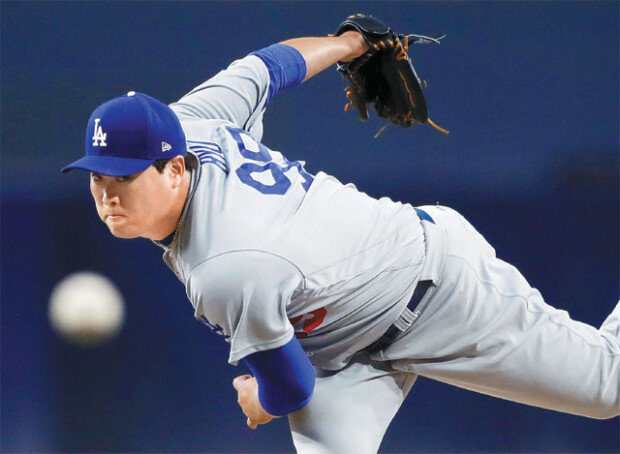 Los Angeles Dodgers' pitcher Ryu Hyun-jin handed his team its second two-game winning-streak on Monday (local time) following the previous night's victory led by Dodgers' ace Clayton Kershaw, who finally picked up a win after three consecutive losses. With Monday's 10-3 win over the San Diego Padres, Dodgers (6 wins 9 losses) overtook Padres (7 wins 11 losses) to become the second to last in the National League West after suffering six losses in a row.
The South Korean left-hander is bouncing back quickly from a rocky season debut with two quality starts in a row. Ryu has picked up two wins this season following the season's first win against San Diego on the day by allowing two runs (one homer) during six innings. He threw 57 strikes out of 93 pitches that day. Ryu had San Diego hitters off balance with great control and incredible combination of pitches.
Ryu kept the momentum going after his win over Oakland on last Tuesday, striking out eight in six innings against Padres. Ryu set a new season high in strikeouts (nine) without a walk, throwing 12 changeups, 17 cutters, 13 curves and one two-seam fastball as well as 50 four-seam fastballs. The only mistake he made that day was when Hunter Renfroe of Padres led off the second inning with a double, and Christian Villanueva crushed a cutter from Ryu into the left-field for a two-run homer.
Dodgers manager Dave Roberts complimented Ryu, by saying, "The change, the breaking ball, the fastball command and the cutter was really good." "We could see Ryu shaking his head several times to the catcher's signs. He pushed forward with what he had in his mind. Not many pitchers can throw various types of pitch at any time they want," MBC Sports Plus Commentator Song Jae-woo said. "He overpowered batters at the bottom of the lineup and threw a variety of pitches to sluggers."
Bo-Mi Im bom@donga.com