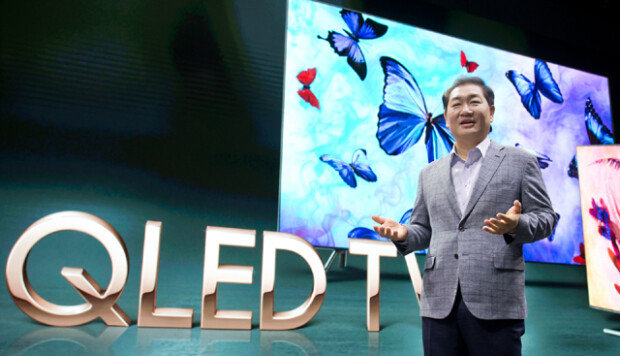 Samsung Electronics Co. announced on Tuesday that it will release 11 QLED TV models ranging from 55 to 82 inches throughout June, and an 85-inch TV by the end of this year.
The tech giant is apparently focused on expanding extra-large screen TVs to its lineup this year. The number of TVs to be released this year that are sized 75 inches and above rose to eight out of 17 from only four out of 10 in 2017 while the company's 40-inch model will be discontinued.
"We plan to widen the gap with the rivals in the segment of TVs sized 75 inches and above and remain as the world's top TV maker for the 13th consecutive year," said Han Jong-hee, president of Samsung Electronics' visual display (VD) business division at a press briefing held on Tuesday at the company's headquarters in Seocho District, Seoul. Han also announced that the company aims to increase its global market share for 75-inch and larger TVs up to 60 percent this year from 50 percent in 2017.
What has driven the South Korean company to increasingly focus on extra-large models is the striking growth of such models in the global market, more than 30 to 40 percent annually while the growth of overall global TV market has plateaued.
The market volume of 75-inch and larger TVs is expected to reach 1.757 million units this year, up by 47 percent from last year's 1.192 million units, according to research firm HIS Markit. The size segment's share in terms of value is also expected to rise from the current 4.54 percent to 7.21 percent by 2022.
The popularity of large TVs is particularly pronounced in North America and South Korea. According to market research institute GFK, the domestic market size of 65-inch and larger TVs grew over 1.5 times from 18 percent in 2016 to 31 percent last year, mostly because the market demand for 55-inch models has quickly shifted to 65-inch TVs amid the continuous emergence of extra-large TVs in recent years. Also, the 2018 PyeongChang Winter Olympic Games held in South Korea as well as other global sports events scheduled for this year including the FIFA World Cup in June and the Asian Games in August have led to expectations that the 65-inch TV market will become larger than that of 55-inch models for the first time in history.
Ji-Hyun Kim jhk85@donga.com