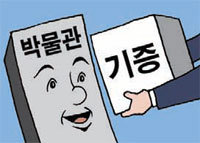 Song Sung-moon, the author of the English textbook series "Sungmoon English," donated more than 100 ancient books to the National Museum of Korea in March 2003. The donations included four national treasures such as National Treasure No. 246 "Daebojeokgyeong" and 22 treasures. They were ancient books worth tens of millions of dollars that he earned by selling the bestseller English textbook series for more than 30 years. He made the donation without any conditions attached only three days after expressing his intention. Museum officials said his donation was the boldest contribution ever. The museum offered to hold a donation ceremony, but he did not show up at the event, excusing himself by saying, "I am going to the United States to see my son."
Coreana Cosmetics Chairman Yoo Sang-ok recently donated to his company more than 4,800 cultural properties, which he had collected throughout his life. He started collecting cultural properties upon hearing that ancient paintings are very effective in boosting artistic sensibility, in the early 1970s when he was in charge of accounting at a pharmaceutical company. Since then on his paydays, he reportedly spent much of his salaries to pay all different art galleries for paintings he had purchased on credit. Since founding his cosmetics company, he has collected accessories, jewelry and makeup-related items.
The Metropolitan Museum of Art in New York, which was a latecomer than the Louvre and the British Museum, was able to position itself as a world-class museum due to donations. American banker Robert Lehman donated more than 2,600 Renaissance paintings among the museum's best collection, while rail industry tycoon Cornelius Vanderbilt Jr. donated artworks by maestros Leonardo da Vinci and Rembrandt Van Rijn.
Regardless of whether it is just a couple of pieces or thousands of pieces, it is not easy to donate cultural properties that they have collected with care. The hall of donations at the National Museum of Korea has a donor wall displaying in order the names of more than 250 donors. The wall is meant to honor and remember the meaning of donation and sharing. Tea cups created by a descendant of a Joseon Dynasty artist who was taken to Japan during the Imjinwaeran War, the bronze helmet marathoner Son Ki-jung received at the Berlin Olympics, and the score for Korea's national anthem handwritten by composer Ahn Eak-tae deeply touch the heart of visitors with their significance and extraordinarily special value.
Kwang-Pyo Lee kplee@donga.com