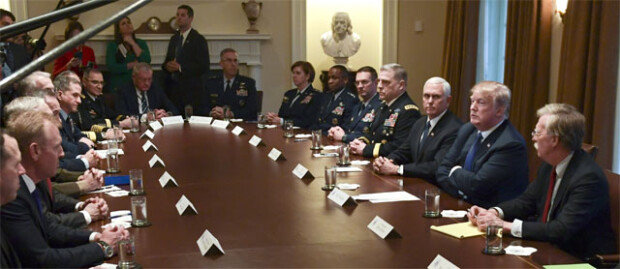 U.S. President Donald Trump said Monday (local time) that he expected to meet North Korean leader Kim Jong Un "in May or early June." With North Korea also mentioning the scheduled meeting between the two Koreas and the dialogue with the United States, the two countries officially confirmed a North Korea-U.S. summit on Tuesday morning. The result of their under-the-table discussion on the meeting's location and measures of denuclearization is expected to not only determine the success of a first ever Trump-Kim meeting but also affect the current rapprochement on the Korean Peninsula.
"We've been in touch with North Korea," said President Trump before a Cabinet meeting Monday. "Hopefully, we'll be able to make a deal on the de-nuking of North Korea." This is the first time that Trump directly mentioned the agenda of denuclearization along with the ongoing preparation for the talk with North Korea since he accepted Kim's proposal of holding a summit conveyed through South Korea's special envoys following their visit to Pyongyang. "I think there'll be great respect paid by both parties," said Trump. "Hopefully, it'll be a relationship (between Washington and Pyongyang) that's much different than it's been for many, many years."
Meanwhile, North Korea's state-run Rodong Sinmun reported Tuesday that the young leader had discussed the inter-Korean summit to be held at the border truce village of Panmunjom on April 27, and made a profound analysis and appraisal of the development of inter-Korean ties and the prospect of North Korea-U.S. dialogue at a meeting of the ruling party's Politburo. This is also the first time that Pyongyang has made an official mention of the summit with the United States through media, letting its residents know that their country resumed the dialogue with Washington under the leadership of Kim. In the same vein, several sources have said that the two countries seemed to have focused on a process to verify denuclearization during their secret discussion between intelligence officials. Some say that Trump officially confirmed his meeting with Kim as Pyongyang appeared to be more willing to get its nuclear facilities inspected.
In-Chan Hwang hic@donga.com · Jin-Woo Shin niceshin@donga.com