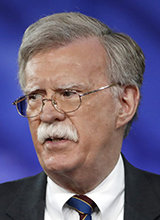 On Sunday (local time), John Bolton, the new national security advisor of Washington, warned against the possibility of Pyongyang's stalling time for the denuclearization negotiation to complete the development of intercontinental ballistic missiles mounted with nuclear warheads that can strike the U.S. mainland.
"They've got a very limited number of things that they need to do in North Korea to make their nuclear warheads actually deliverable on targets in the United States so they want to try to slow roll the negotiations to buy more time," argued Bolton in an interview on the Cats Roundtable, a New York radio show on AM 970. "This is something they have done consistently over the last 25 years."
"Is North Korea going to give up its nuclear weapons? How are we going to do it? Not a theoretical discussion…but very concretely…I think the sooner we get to it, cut to the chase, the better," said the newly appointed national security advisor.
The interview is drawing a keen attention as this is the first remark Bolton has made on North Korea since nomination. Telling the radio show that preparations were already underway for a historic North Korea-U.S. summit, Bolton said, "We have to look at what North Korea's motivation is here. I think they're very worried that they've got a different president in the White House than Barack Obama. They're worried about the pressure that the president's already put on."
Yong Park parky@donga.com