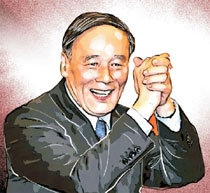 China's National People's Congress approved Xi Jinping for a second term of presidency and appointed Wang Qishan as his vice-president on Saturday. Wang, now 69, stepped down from the seven-member Politburo Standing Committee according to the political practices that have set 68 as the official retirement age for top officials, but he has made a comeback in five months after the step down by being unconventionally chosen as the vice president, the de facto 8th standing committee member.
In the era of Stalin, there was Stalin's notorious secret police chief, Lavrenty Beria. He was known as "Stalin's entourage," who helped lead the Great Purge. Wang, Xi's longstanding friend, is said to be his "enforcer." Both Xi and Wang were from the Crown Prince Party, an informal political club of the descendants of China's prominent and influential senior communist officials. Wang, five years Xi's senior, eliminated Xi's political enemies including the fearsome domestic security chief Zhou Yongkang by spearheading Xi's campaign against corruption when he served as the head of the Central Commission for Discipline Inspection. He played a key role in making a shift from china's collective leadership system to a single one and making Xi become the most powerful leader since Mao Zedong.
After China's parliament appointed his vice presidency, Wang shook hands with Xi, but not with current Premier Li Keqiang. This is viewed as his showing off being the No. 2 Communist leader. Xi won all of the 2,970 votes while Wang received 2,969 votes in favor and one against. Given that the ballot at the National People's Congress is strictly controlled even for votes against a bill, Wang's appointment means almost unanimous approval as the constitutional revision proposal that removes limits of presidency received two votes against. Wang, a fan of American political drama "House of Cards" gave a firm tap on the podium after swearing an oath to the constitution as the drama's main character has a habit of knocking twice on a table to show his strength and resolution.
Zhou Enlai was China's first premier under the leadership of Mao Zedong. Jiang Zemin's successor was Hu Jintao, who later was replaced with Xi Jinping. Like Mao, Xi has eliminated a successor and kept only trusted allies. As Zhou was the first foreign minister, who led China's diplomacy, Wang will also serve as an influential foreign affairs adviser to lay the foundation for Xi's long-term seizure of power. Beijing is likely to engage in more hawkish diplomacy, which will eventually have an impact on the situation in Northeast Asia.
pisong@donga.com