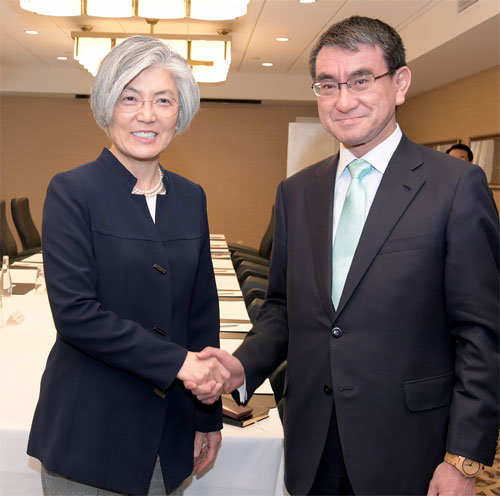 South Korean Foreign Minister Kang Kyung-wha and Japanese Foreign Minister Taro Kono have agreed to closely cooperate to seek an early three-way summit among South Korea, China and Japan.
The two ministers who are visiting Washington D.C. held a Korea-Japan foreign ministers' meeting on Saturday (local time). They agreed to expand working-level consultations over early convening of South Korea-China-Japan summit, and proactively consider Korean President Moon Jae-in's visit to Japan. Earlier in his phone call with Japanese Prime Minister Shinzo Abe on Friday, Moon agreed with the Japanese leader that the three countries hold a summit as soon as possible.
Kono reportedly has requested Kang that the South Korean government mentions Japanese abductees in North Korea at the inter-Korean summit next month. "There is no change (in the Japanese government's stance) that Tokyo will seek to normalize diplomatic ties (with Pyongyang) by comprehensively resolving abductions, nuclear weapons and missiles based on the North Korea-Japan Declaration in Pyongyang," Kyoto News Agency quoted Kono as saying. Kono has also reiterated that Tokyo will pay initial expenses necessary for inspection of the North's nuclear facilities by the International Atomic Energy Agency if and when the North agrees to its denuclearization.
The two ministers have also discussed measures to implement in phases to secure the North's denuclearization. On the North's missiles, the two ministers have reaffirmed that South Korea, the United States and Japan will cooperate to address dismantlement of not only ICBMs targeting the U.S. mainland but also intermediate and short-range missiles possessed by the North, the Kyoto News Agency reported. The two ministers reportedly stopped short of mentioning the issue of comfort women or sex slaves.
Jin-Woo Shin niceshin@donga.com · Young-A Soh sya@donga.com