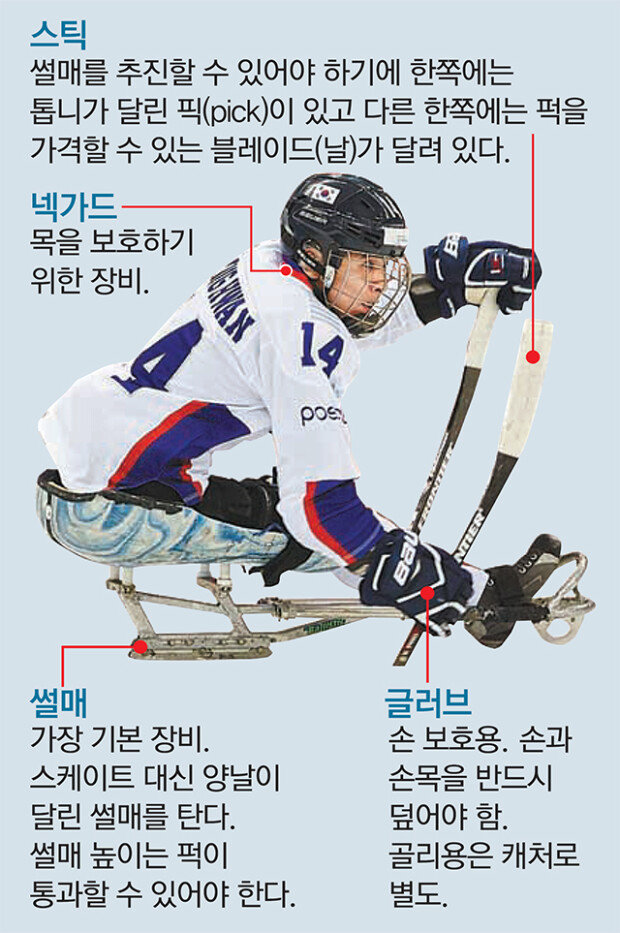 How players use sledges and sticks are what to watch for in para ice hockey. If you know how they use the equipment, the game will be more fun to watch.
The sledges consist of a basket and blades. Players use the sledge as well as their upper body for body checking. Body checking is aimed at disrupting an opponent by bumping up against each other. The double-blade sledges allow the puck to pass beneath. Korean para ice hockey player Jeong Seung-hwan, who is known for his nickname "Messi on ice," is good at skillfully driving the puck beneath the sledge.
Players use sticks to propel the sledge as well as to shoot the puck. The stick has a hooked blade at one end for puck handling and a pick at the other end for propelling forward. How strongly players thrust the pick into the ice determines their speed.
Players hold one stick on each hand. This is how you can see ambidextrous dribble that cannot be seen in ordinary ice hockey games.
"Para ice hockey players lose more weight after a game than ordinary ice hockey players," said Jeong Yeong-joon, secretary-general of the Korea Para Ice Hockey Association. "It is the most powerful and speedy sport among parasports."
Jae-Hyeng Kim monami@donga.com