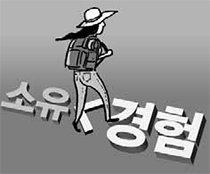 Many baby boomers, who were born between 1955 and 1963, have lived fiercely. At school, they had to compete against each other in a classroom jammed up with their mates. Back then, there were already so many children that the "one child per family policy" was promoted. They believed success comes with owning a nice apartment and a car. This is why many in their 50s and 60s say their best moment in life was when they got a mortgage for a home after years of hard work and saving. It is only natural that the baby boom generation regards the younger generation who do not value saving to buy something valuable as being immature. They express concerns that young adults these days have no hesitation to spend their money on taking a overseas trip or renting a luxury car.
Millennials, who mostly have lived in affluence, are not spending their money on things. They are placing greater importance on personal experiences, for instance, by getting a concert ticket for their favorite musician. Indeed, tickets for a Seoul concert by John Legend, an American singer and songwriter, were sold out in just 10 minutes. It was a surprising success, given that his album sales have not been doing well in domestic market albeit he is an undisputed famous global star, music industry insiders say. Some 58 percent of his tickets were bought by those in their 20s and teens. Many young people go to a concert and get an album on the spot if they like it. When they buy music, they do not get CDs to listen. They view music as something they can experience and enjoy at concerts or clubs.
In his book "The Age of Access," Jeremy Rifkin, a social and economic theorist, predicted that the concept of property ownership will be eliminated from our lives in the new era of access where accessing experience becomes easily available and more important. Ownership is just too slow institution to adjust to the rapidly changing world. In fact, there is so much you can enjoy without actually possessing. You can watch as many movies on Netflix as you want at about 9 dollars per month. With the exception of Korea, the market for car sharing around the world is exponentially growing. This is an era where owning things gets in your way.
In pursuit of happiness, buying experiences is wiser than buying things. Professor Thomas Gilovich at Cornell University has studied and concluded that people are much happier when they experience things than when buying things. This is because owning is exclusive in itself whereas experience is shared. Experiences of going on a trip or watching a performance, which can be shared together, becomes valuable asset over time. Therefore, millennials' experiential consumption is a more evolved strategy to maximize one's happiness in this era of uncertainty.
Su-Young Hong gaea@donga.com