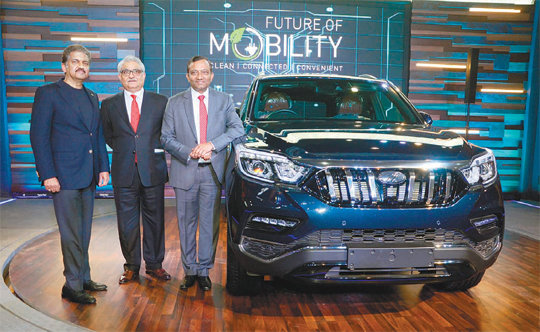 A Korean automaker is making inroads into Indian market. Posting over 7 percent annual growth recently, India is fast emerging as one of the four major car markets in the world. Industry experts are expecting that India will become one of the biggest export markets of Korean cars, following China.
SsangYong Motor Company announced Monday that the assembly of its latest large-sized SUV "G4 Rexton" will start at a local plant in India owned by Mahindra and Mahindra (M&M), SsangYong's parent company, starting in the second half of this year.
SsangYong recently cut a deal with M&M for local production of its vehicles in India. The parts of the G4 Rexton will be sent from South Korea to India before going through a complete knock-down (CKD) assembly operation for sales in India. The overseas sales by CKD operation will be tallied as exports for SsangYong Motor.
Having been acquired by M&M in 2011, SsangYong Motor has sold more than 1,000 units of the Rexton W every year since 2012. The South Korean car maker is vying for dominance in India's SUV market with its latest full change model G4 Rexton at the helm, against other global competitors including Toyota and Ford.
"We unveiled the G4 Rexton at a motor show in Deli on Thursday, and many industry professionals expressed a keen interest in the new Rexton's eye-catching design and premium interiors," said an official from SsangYong Motor.
The G4 Rexton will be sold under the brand name of M&M in India. Third in market share in the Indian car market, M&M is currently driving sales of its compact SUVs Scorpio and XUV500. M&M is expecting the introduction of the G4 Rexton to expand the line-up of its SUV varieties. "SsangYong and M&M will create synergy by working together in development of new products and overseas market expansion," said SsangYong Motor CEO Choi Jong-sik.
Woo-Shin Han hanwshin@donga.com