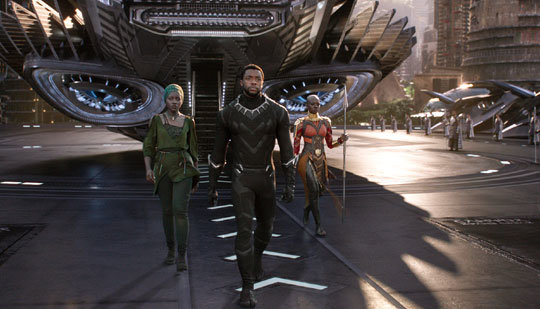 The "Black Panther," which premieres on Wednesday, will come as quite unfamiliar to speculators who are used to superheroes presented by Marvel Studios up until now. Not only the superhero with the mighty power is black but also the major characters and producers are mostly black. Accordingly, the movie is unlike any other Marvel movies, creating a novel atmosphere through unique image and music with an African influence.
The background of the movie is the "Wakanda" Kingdom, a virtual state-of-the-art technology state in Africa. "Black Panther" is a name given to a warrior for generations. The movie starts as T'Challa (Chadwick Boseman), prince of Wakanda, succeeds his deceased father as the king and becomes the black panther after winning fights with warriors in other clans. This clan has "Vibranium," which is one of the strongest metals in the planet and is used in Captain America's shield. This rare material is the power of the clan and the source of dispute and tension at the same time.
The movie gained high expectation as it was filmed in the Korean port city Busan for about 15 days in March 2017. Unlike "Avengers 2," which raised disappointment due to little screen time allocated to South Korea, Busan's part in the Black Panther is quite noticeable. The most essential action scene and chase scene is held in the Jagalchi Market and Gwangan Bridge in the city. This action scene takes up approximately 20 percent of the entire movie and some simple Korean lines such as "Do you have a seat?" and "Give me a drink" are directly spoken by the characters. It is also interesting to note that the 'Jagalchi lady' appears be a quite important minor character.
Sun-Hee Jang sun10@donga.com