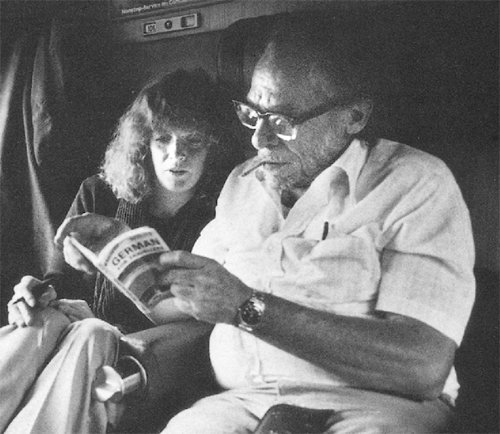 He led a life without pretense. He was not afraid of writing about human instincts such as alcohol, sleeping and sex. Charles Bukowski (1920-1994) was an American poet and writer who is famous for his novels, including "Post Office," "Factotum" and Women. This essay depicts his trip to France and Germany in 1978 for a book promotion tour.
Charles Bukowski works as a blue-collar worker while writing novels. After becoming famous as a writer, he goes to Europe for a book promotion tour. But he gets off to a bad start. His French publisher should have paid for his flight ticket but there was no pre-paid ticket waiting for him. Also, he has no idea that there will be 12 interviews for four days because he is soaked with drink every day.
Every page in this essay is full of fun and messy episodes that make readers burst into laughter. Bukowski is like a child. In one episode, he gets told off by his girlfriend, Linda, for sneaking a peek at a woman baring her upper body at the beach in Nice. Instead of denying it, he admits that he peeped at the woman. Apparently, he is too timid to loot at the naked woman in her face.
At his reading event, he becomes so nervous by looking at so many fans packing the place. Although he gets so nervous, he holds her girlfriend's hand and gladly goes sightseeing to a cathedral because Linda loves cathedrals. In the 87 photographs taken at the cathedral, he looks like a mischievous boy and a philosopher at the same time.
He did not care about what others thought about him and listened to his heart. His stories and his free spirit make readers feel relieved and refreshed. The original title of this essay is "Shakespeare Never Did This."
Hyo-Lim Son aryssong@donga.com