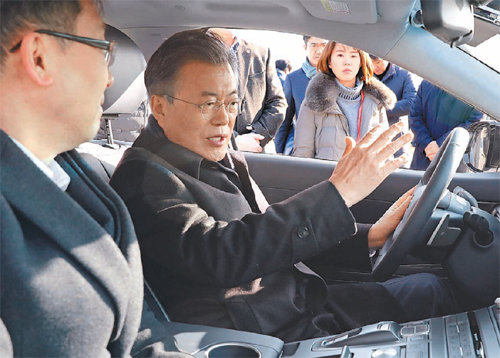 "I am the first national leader to ride a self-driving car on a highway, and Hyundai is the first company to produce a hydrogen-powered autonomous vehicle in the world," President Moon Jae-in said at the Enterprise Support Hub in Pangyo on Friday. He took a test drive with the "Nexo," a fuel-cell-powered self-driving car developed by Hyundai Motor, along seven kilometers at the northern end of the Seoul-Busan expressway. Moon's participation in the test run came just one day after he visited a local solar panel manufacturer Hanwha Q CELLS, which recently announced plans to reduce the average working hours and create new jobs.
On Friday, President Moon did not spare encouragement for Hyundai Motor. "I'm not sure whether you remember Hyundai's Pony. When the company finally started to produce the compact car in 1975, Korea became a car manufacturer and people were deeply moved," said Moon. "Korea grew to become the sixth largest car producer in the world in an unprecedently short period of time."
"While the world is swiftly moving towards eco-friendly and futuristic vehicles, I was worried that we might be a little behind. But once I got in the vehicle, that was not the case at all," the liberal president added. "I was very pleased that we have already reached a level where we can take a self-driving car to go anywhere with a guide map."
"I came to make a strong determination that the country should make its utmost efforts so that we can get ahead in the driverless vehicle industry," said President Moon. "As we started with Pony and have become one of the world's top car manufacturers in a short period of time, let us grow our power in the field of futuristic vehicles such as hydrogen-powered and electric cars."
The Ministry of Land, Infrastructure and Transport and the Ministry of Trade, Industry and Energy announced Friday their plans to invest 35 trillion won by 2022 to expand the number of EV fast-charging stations and overhaul the country's road infrastructure to enable complete self-driving.
weappon@donga.com · thousand@donga.com