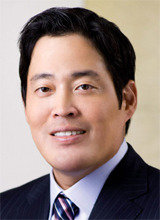 Shinsegae Group Vice Chairman Chung Yong-jin has made much-anticipated announcement on the group's future plan for online business.
South Korea's retail giant has signed memorandums of understanding with two foreign investment management firms to attract over one trillion won, to ramp up its e-commerce business, the company said Friday. The two investors are BRV Capital Management, a consumer-focused investment firm, and private equity firm Affinity Equity Partners.
Shinsegae Group has said it will spin off the online business divisions of Shinsegae Department Store and E-mart and establish a new business unit dedicated to the group's e-commerce business. With the funding from the management firms, the newly established affiliate will expand its logistics centers and new business areas for e-commerce, and finance potential acquisitions of other firms.
"We will make a shocking announcement at the end of the year on our future strategy in online business," said Chung at the opening ceremony for Shinsegae's shopping mall brand Starfield in Goyang, Gyeonggi Province in August last year. Industry insiders expected that the group might acquire an e-commerce company but Shinsegae, under the leadership of Chung, has chosen to integrate its business divisions and attract investment.
Shinsegae is currently running SSG.COM, an integrated online marketplace. But it has concluded that its other online platforms are separated into E-mart Mall and Shinsegae Mall, failing to create enough synergy in human and material resources.
Shinsegae has already gained confidence in e-commerce business with both E-mart Mall and Shinsegae Mall reaching one trillion won in sales last year, respectively. It is still in deficit but gradually filling in the losses. "The separate e-commerce company will be launched within this year," said Choi Woo-jeong, vice president of the group's e-commerce division. "Our goal is to post annual sales of 10 trillion won by 2023."
Eun-Seo Park clue@donga.com