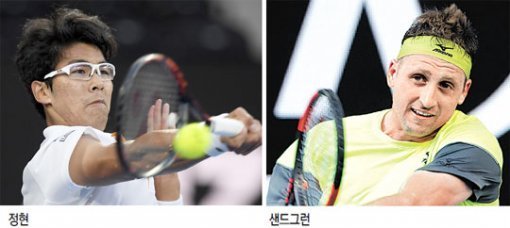 Chung Hyeon will play Tennys Sandgren at the quarterfinals of the at the Australian Open tennis championships with in Melbourne, Australia at 11 a.m. on Wednesday.
The 21-year-old Korean has advanced to the Australian Open quarterfinals as the first South Korean player after beating six-time Australian Open champion Novak Djokovic on Monday, and will be playing with Sandgren, who is also at the center of this extraordinary result.
Chung Hyeon, who ranks 58th globally, consecutively knocked out Mischa Zverev (35th-ranked) and Daniil Medvedev (53rd-ranked) followed by Alexander Zverev (4th-ranked). As Chung Hyeon defeated Djokovic on Monday, foreign media referred to Chung Hyeon's victory at the Next Generation in last November, introducing him as the "next generation tennis star." The main page of the Australian Open twitter account changed to a photograph of Chung Hyeon.
Fierce competition is expected between Chung and Sandgren, but analysis forecasting Chung Hyeon's victory is predominant. He beat Sandgren at the first round of the ATP Tour's ASB Classic held in Oakland, New Zealand on Jan. 9 by 2 to 1. Furthermore, Sandgren's strength is serve while Chung has lead the game with a powerful return.
Jae-Hyeng Kim monami@donga.com