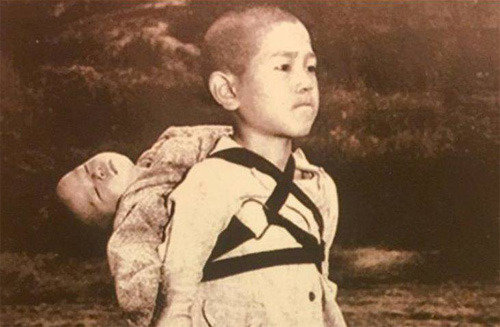 Pope Francis is drawing attention as he chose a photograph of a child who is a victim of nuclear weapons for the New Year's card of 2018. There is also an interpretation that Pope Francis sent a message on stopping the wars in the world, given the nuclear war in the Korean Peninsula.
CNN reported on Sunday (local time) that "a photograph of a boy who was a victim of atomic bombing by the U.S. Army in Nagasaki, Japan, in 1945, was inserted in the New Year's card distributed by the Pope." According to CNN, the photograph shows a young boy carrying a dead infant on his back, with the infant's head falling to the back, and standing in front of a funeral house. The boy, seeming around the age of 10, is standing in a stiffened "attention" posture and biting his lips. This photograph was taken by Joe O'Donnell, a photographer of the U.S. Marine Corps, who visited the site after the atomic bombing of World War II.
On the back of the New Year's card, along with the title "The Fruit of War," an explanation that "The young boy's sadness is expressed only in his gesture of biting his lips which are oozing blood" is written on it. The Pope signed below the title.
"It's nevertheless the first time Francis has asked that a specific image be circulated in the holiday season, suggesting he believes its message is especially relevant at the moment," said John Allen, a Vatican analyst at CNN.
At his last public event of the year, an evening vespers service in St. Peter's Basilica, Pope Francis said that humanity was gifted a "whole and sound" year by God, but "we humans in so many ways ruined and hurt it with works of death, with lies and injustices."
Eun-A Cho achim@donga.com