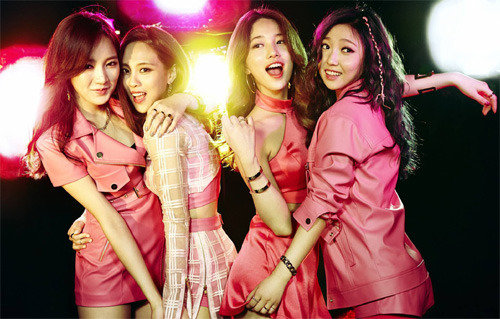 Korean girl group miss A has ended its seven year career. JYP Entertainment announced Wednesday that the group decided to go on their separate ways as some of the members left the entertainment company.
Miss A, a girl group comprised of two Korean members, Suzi and Min, and two Chinese members, Jia and Fei, made its debut in July 2010 with the song "Bad Girl Good Girl." In the same year, the group received the "Best Dance Performance" (female group) award and the "Best New Female Artist" award at the Mnet Asian Music Award (MAMA). Afterwards, the group released songs such as "Breath," "Touch" and "Can Live Well without Men," receiving the public's love.
Among the members, Fei and Suzi renewed their contract with JYP in May 2016 and August 2017, respectively. On the other hand, Jia and Min, whose contract terminated in May 2016 and April 2017, respectively, did not renew their contracts. Miss A stopped its activities for two years and eight months since its mini album "Colors" released in March 2015.
Suzi started acting in KBS drama "Dream High" and starred as the main character in various works such as the movie "Architecture 101" and SBS drama "While You Were Sleeping," focusing on her acting career. Fei launched her solo album in 2016 and will be starring a Chinese drama.
Previously, JYP's girl groups "Sistar" and "Wonder Girls" had also disbanded, ending its seven and 11 years career due to termination of contract and some members leaving the groups.
Min Kim kimmin@donga.com