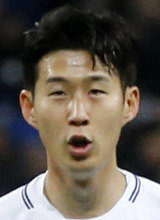 Son Heung-min, a Korean professional football player for Premier League club Tottenham Hotspur, has become one of the top players running in Europe, according to UK-based Sky Sports.
Son, 25, ranked 26th in the top 100 players of 2017 from Europe's top five leagues, which was published by the channel Tuesday. He was the only Asian player to put his name on the list, which ranked footballers in England, Spain, Germany, Italy and France based on certain criteria including scores and contribution.
"Son has risen to the occasion in terms of helping Kane with the goal scoring load at Tottenham, with 22 goals to his name this calendar year," Sky Sports said. "Son also helped South Korea book their spot in the 2018 World Cup."
The Korean forward scored 13 goals this year alone in the English Premier League (EPL), and had six and three goals each in the Football Association (FA) Challenge Cup and the Union of European Football Associations (UEFA) Champions League.
With his unique strength and competitiveness, Son was also considered the 69th most valuable player in Europe's top five leagues by the International Center for Sports Studies (CIES) Football Observatory under the International Federation of Football Association (FIFA) this January.
Meanwhile, it was Lionel Messi of FC Barcelona who took the No. 1 spot in the list. Harry Kane of Tottenham and Neymar of PSG were the second and third best players, while Cristiano Ronaldo of Real Madrid, who won a record fifth Ballon d'Or trophy this year, came in the fourth place.
Yun-Cheol Jeong trigger@donga.com