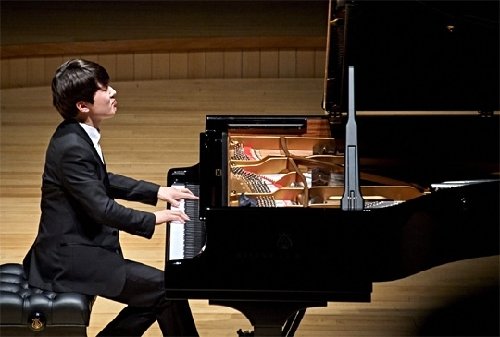 It seems you will be able to enjoy performances of many star pianists next year. Cho Seong-jin will be the first to perform on stage. He will hold solo piano recitals in four cities, starting with Busan on Jan. 7, followed by Seoul on Jan. 10 and 11, Jeonju on Jan. 13 and Daejeon on Jan. 14. He will also perform with the Santa Cecilia Orchestra on Nov. 16 at the concert hall of Seoul Arts Center and have a duet performance with violinist Chung Kyung-hwa on Sept. 12 at the same place.
One of the finest pianists in the world, Polish pianist Krystian Zimerman will visit Korea in 15 years. After winning the International Frederic Chopin piano competition in 1975, he has been chosen by the world's greatest orchestras as a pianist they want to play with. He is a famous perfectionist who brings his own piano to every performance. He will play Leonard Bernstein's Symphony No. 2 "The Age of Anxiety" with the British Philharmonic Orchestra and Finish composer and conductor Esa-Pekka Salonen on Oct. 18 at Lotte Concert Hall in Seoul.
Russian classical pianist Evgeny Kissin, who had three sold-out recitals in Korea in 2006, 2009 and 2014, will have a fourth recital here on Oct. 29 at the concert hall of Seoul Arts Center. The Russian pianist was invited back on stage for 30 curtain calls and gave 10 encore performances in his 2006 recital. This time he will play Beethoven's Piano Sonata No. 29 "Hammerklavier" and Rachmaninoff's Prelude. On Nov. 29 and 30, he will perform Liszt's Piano Concerto No. 2 with the Bavarian Radio Symphony Orchestra.
American concert pianist Murray Perahia is scheduled to have a recital at the concert hall of Seoul Arts Center on March 17. He will play Bach's French Suite for keyboard No. 6 in E major, Schubert Impromptu and Beethoven's Piano Sonata No. 32.
Russia's leading female pianist Elisabeth Leonskaja will have her first recital in Korea on March 31 at Seongnam Arts Center in Gyeonggi Province and play programs including Schubert's Piano Sonata. Another Russian pianist Daniil Trifonov, who won the first prize at the International Tchaikovsky Competition in 2011, will collaborate with Santa Cecilia Orchestra to play Rachmaninoff's piano concerto no. 3 on Nov. 15 at Seoul Arts Center. Leading Korean pianists, including Kim Seon-wook, Sunwoo Ye-kwon, Lim Dong-hyuk and Moon Ji-young, are also scheduled to meet the Korean audience on many stages next year.
"Classical performances are normally scheduled two to three years in advance," said an official in the concert industry. "As the Prohibition of Improper Solicitation and Graft Act was implemented in 2016, the number of large-scale performances has reduced and instead solo recitals by star pianists have increased."
Dong-Wook Kim creating@donga.com