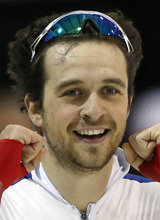 Russia's Denis Yuskov, who won gold in the men's 1,500 meters with a world-record time on Dec. 9 in the World Cup speedskating event, is likely to play in the upcoming PyeongChang Winter Olympics, clearing the suspicion over doping offenses.
International sports news insidethegames reported Tuesday, "The Disciplinary Commission has come to the conclusion that there are no sufficient elements in the evidence available to date to establish an anti-doping rule violation by the athlete." However, Yuskov has to compete in his individual capacity in the Olympics because of the International Olympic Committee's ban on Russia.
Yuskov's entry has made competition in the men's middle-distance race fiercer. The 28-year-old speed skater owns the world-record in this season by winning three gold medals in four ISU World Cup races, except the second race where he did not enter. In particular, he renewed the world record by cutting the finish line in one minute, 42.02 seconds in the fourth race. He ranks first with 300 points in the World Cup, and third in the 1,000 meters race with a gold and a bronze medals.
Hong-Gu Kang windup@donga.com