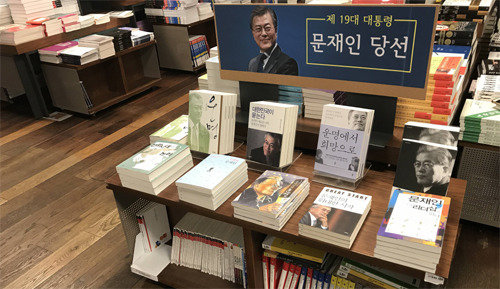 Sales of books written by Korea's new President Moon Jae-in and books about his life or philosophy have risen rapidly in online and offline bookstores since Moon's inauguration on Wednesday.
According to online book retailer Yes24, sales of 25 books combined, including 13 books written or co-written by Moon and 12 books about Moon, quadrupled from 239 copies on Tuesday to 1,109 copies as of 2 p.m. Wednesday.
"Moon Jae-in's Destiny," autobiography published in 2011, "Korea Ask," collection of dialogues with writer Moon Hyeong-ryeol published in January, "Who? Special Moon Jae-in," comic for children published in March, and "1219, the End is the Beginning," published in 2013, were among the top-selling books.
Offline book stores have set up a special stand for books about Moon. According to Kyobo Bookstore, online and offline sales of books about Moon doubled from 110 copies on Tuesday to 260 copies as of 2 p.m. Wednesday. TIME magazine's Asian issue featuring Moon on the cover has been sold out, including reservations, in two days on Monday.
Taek Kyoon Sohn sohn@donga.com