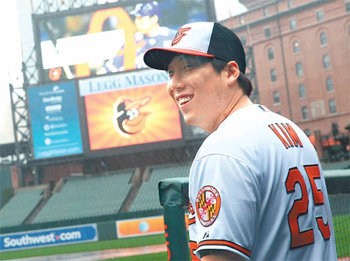 In order for Kim Hyun-soo of the Baltimore Orioles to successfully take root in the U.S. Major League Baseball, he should overcome more than anything the hurdle of Japanese pitchers.
The first hurdle is Masahiro Tanaka, the right-hand ace pitcher of the New York Yankees who is the same age as Kim at 27. Tanaka, who moved from the Rakuten Golden Eagles in Japan to the Yankees through posting in January last year, is Japan's pride who achieved 34 consecutive wins including 28 wins in the Japanese league and six in the Major League. At the Yankees, he garnered 25 wins and 12 losses from 44 games (ERA of 3.16) for the past two seasons. The Yankees plays 19 games against the Baltimore Orioles in the same division every season, and Tanaka has played in a total of four games against Baltimore and secured one win. He has pitched 29 and two thirds of innings, and posted an ERA of 3.08, garnered 33 strikeouts, and given six homers.
Kim and Tanaka both participated in the 2008 Beijing Olympics and the 2009 World Baseball Classic, but they did not have a showdown. Tanaka posted a higher strikeout-to-hit ratio (0.233) versus left-handed batters than right-handed batters in this past season. He gave two hits from five times at bat including one homer to Chris Davis, the only left-hand batter among Baltimore's starting players, this season.
The second hurdle is Koji Uehara (40) of the Boston Red Sox in the same Eastern Division. Uehara posted 86 saves by banking on his signature sharp-curve fork balls for the past three seasons, and served as the flagship relief pitcher for Boston by garnering 86 saves. He recently switched to the middle reliever role, and is expected to play in more games next year. Kim is also expected to have showdowns with Yu Darvish (29), the ace pitcher of the Texas Rangers, and Hisashi Iwakuma (34) of the Seattle Mariners.
It remains to be seen how Kim Hyun-soo, dubbed "hitting machine" who is said to the best in "batting control" in Korea, will deal with ace Japanese pitchers who throw fork balls.
elegant@donga.com