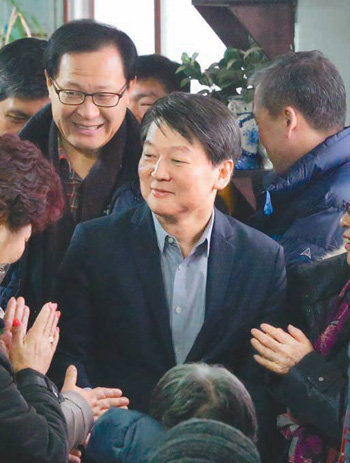 Independent lawmaker Ahn Cheol-soo officially declares on Monday that he will form a new party. It has been two years and a month since November 2013 when he declared to found a new party.
Ahn plans to reveal that he will establish a working-level organization for the new party. It appears that he opens the door to join together with the new party of independent lawmaker Chun Jung-bae and former lawmaker Chung Dong-young after he starts his party.
His plan to form the new party is getting speed because he has decided that the general opinion after his leaving the New Politics Alliance for Democracy (NPAD) has not been unfavorable. It is also considered that he could receive the government subsidies of 8.8 billion Korean won (approx. 7.4 million U.S. dollars) when he establish a negotiation body no later than February 15, 2016.
"I know I'm not sufficient enough but Korean people gave me embers of starting new politics. I would never put them off," Ahn tweeted on Sunday. "I would pay back to Koreans order to reform politics with great responsibility." He showed his determination again not to withdraw from anything by quoting Robert Frost`s poem "The road not taken."
He also encouraged his close aides to run for the election. On the day, Ahn attended an opening ceremony of Park Wang-gyu's office, preliminary candidate for Gwanak-eul in Seoul and praised him as a "man of loyalty" saying that it was Park who cried out "no" at a press conference in 2012 when Ahn announced to give up running for president.
constant25@donga.com