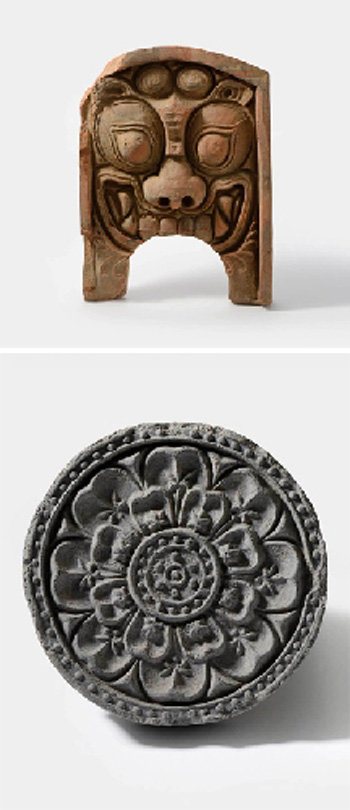 The first impression is strong with big eyes, flat nose, sharp pangs, and red face. A patient observer, however, will see a different face. The lips wear a hint of smiling, and the round facial contour feels friendly and even hilarious.
The description is about a roof-end tile from the ancient Goguryeo Kingdom of Korea in which the face of a demon is carved to dispel misfortune. The tile is displayed at YooGeum Museum located in Jongno-gu, Seoul. The ancient tile, which takes the form of a square with rounded edges, has a round bottom as it is designed to be placed on the ridge of a roof. It is 39.3 centimeters long, which is much larger than those of Shilla or Baekje dynasties. The tile belonged to a Japanese collector named Isao Iuchi (1911-1992).
In 1964, Isao Iuchi, who was a doctor, bought from a Japanese collector some 5,000 pieces of Korean traditional roof tiles and bricks made in between the Three Kingdoms Period and the modern period. Isao selected 2,000 items out of them to make a compilation in 1987 and donated 1,082 pieces of roof tiles to the National Museum of Korea in the same year. In 2005, Yoo Chang-jong, the director of the YooGeum Museum, bought an additional 1,296 pieces of roof tiles.
"The fact that large-sized tiles were used in Goguryeo Dynasty points to a high-level of wooden architecture that is necessary to endure heavy weights," explained Kim Seong-gu, the founding president of the Korean Research Society for Roof Tiles and the former director of the Gyeongju National Museum.
The Overseas Korean Cultural Heritage Foundation on Monday issued a publication to shed light on the redemption and academic values of "Isao Iuchi Collection." The special exhibition of the Iuchi collection will run through July 16, 2016 at YooGeum Museum.
sukim@donga.com