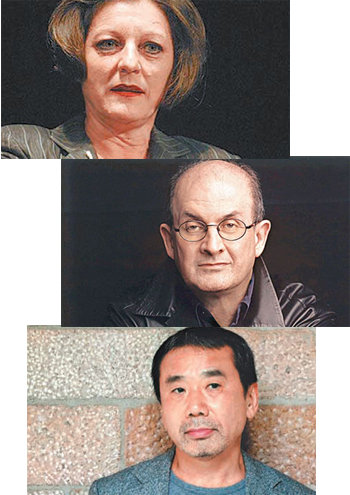 Kenzaburo Oe, Herta Müller, Salman Rushdie, Ngũgĩ wa Thiong`o, Haruki Murakami, Günter Grass, Doris Lessing… The opportunity to meet all those stars in the literature world can be found from John Freeman, an editor of globally-renowned literary magazine "Granta" who has listened to their life story as writers and written them down.
"The truly technical part in writing a novel lies in organizing the story in a deep structure. Only then, readers could find themselves in a timely manner or find them in a timeframe where their reading activity becomes private experience." This is "the secret of writing" introduced by Toni Morrison, the Nobel Prize laureate in literature. Morrison handwrites her stories and put them into a computer before polishing them up continuously. Freeman reckons that Morrison`s writing style comes from her experience of editing at a publishing company. Morrison knows the value of editing, which makes her constantly elaborate and polish up the stories.
The life of Kenyan writer Ngũgĩ wa Thiong`o is dramatic. Having written stories that criticize the authoritarian government, he had been put behind the bars and kept writing on pieces of toilet paper. He had to watch his wife being raped in front of his eyes. "The most horrible part of dictatorship is that it takes your voice away." In this way, Freeman introduces the voices of renowned writers and organized their lives, during which he tries to find out the root of literary value.
It is interesting to see the private lives of those writers that Freeman introduces. In Japan or elsewhere, Haruki Murakami begins his day by writing a book for many hours before going out for running. Then, he translates literary works of others in the afternoon. This daily routine was established because he believes that "repetitive life pattern brings active imagination." Afghan-born American novelist Khaled Hosseini who wrote "The Kite Runner" suffers hardship as second generation immigrant as his two children have become reluctant to speak in their mother tongue. Hosseini bemoans to Freeman that his kids have become estranged from him.
Just as Freeman himself confesses, he learns from the meeting with those writers that they are "not spiritual beings but human beings with flesh and blood." Just like us, they sigh, make jokes and shed tears. Still, they are called as "writers" not because "they have talent to write," but because they believe that they "have to write." "They try to talk about the world and along the way, there are things that can only be spoken by created stories," he said. Thanks to the stories that the authors had to write, their readers have become mentally affluent.
kimjy@donga.com