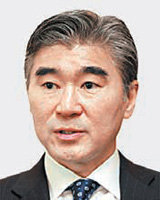 South Korea and the United States reportedly plan to send a message to North Korea calling for Pyongyang to return to the negotiating table instead of making provocations. The two allies will likely coordinate the measure at the annual Korea-U.S. Integrated Defense Dialogue (KIDD) to be held in Seoul on September 23-24. Sung Kim, the chief U.S. negotiator for the six-party talks on the denuclearization of the North, will also attend the meeting.
"South Korea and the U.S. are willing to hold exploratory dialogue with the North without any condition," a South Korean government official said Monday. "That means that the North can choose negotiation over provocation." As the North is moving to launch a long-range rocket on October 10, the founding anniversary of its ruling Workers` Party of North Korea, the South and the U.S. offered dialogue as a solution to Pyongyang`s "strategic provocations" with regards to its weapons of mass destruction and long-range rockets.
The chief U.S. nuclear negotiator, who will visit Seoul on Tuesday, also plans to meet with Seoul`s First Vice Foreign Minister Cho Tae-yong on Wednesday and Hwang Joon-kook, the South Korea`s representative to the six-party talks, on Friday. The U.S. and South Korean chief nuclear negotiators met in Washington last week to exchange views on the possibility of the North`s provocations.
woohaha@donga.com