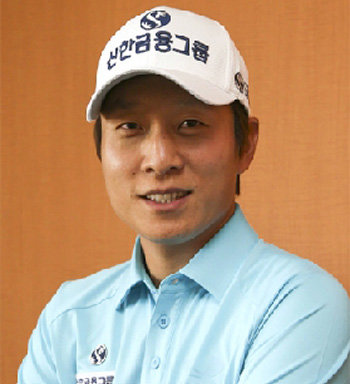 Kim Kyung-tae (29) was nicknamed "the Ghost of the field" in both Korea and Japan. When he was an amateur, he acquired two gold medals at the 2006 Asian Games in Doha, and the title of the Japanese Amateur Championship for two consecutive years.
After turning pro in 2007, he swept honors including three championships of the season, the top player in total prize money, and the rookie of the year award in the Korean PGA tour. In 2010, he became the first Korean golfer to rank No. 1 in prize money rankings in the Japan Golf Tour (JGTO). He conquered both the Korean and Japan tours, but suffered a slump for more than two years recently.
In this season's JGTO, however, Kim garnered three championships to rank No. 1 in prize money, and made a triumphant comeback. Major Japanese media outlets reported, "The Ghost has returned." Kim returned to Korea on Monday to participate in the Korea Open, which kicks off at Woo Jeong Hills Country Club in Cheonan on Thursday, and the Shinhan Donghae Open in Bears Best Golf Club that takes place in Incheon next week. When this reporter met Kim at Hotel Lotte in Seoul, Kim looked happy as he said, "I felt great when I was returning to Korea via the 6:20 a.m. flight today, after winning the title in Japan yesterday."
Kim cited two factors as the key to his rise: mental stability and systematic training. "After getting married in January after four and half years of relationship with my current wife, I felt comfortable. I had my son born in April and I feel more responsibility as the breadwinner of my family. I conduct more training than before. As I see my son grow up, I come to renew my commitment," he said.
"I used to go to overseas training in the winter, and ahead of this season, I focused on strengthening my physical stamina within Korea, and reinvigorated my physical strength that had deteriorated. As I gained muscles, it gained three kilograms in weight. I also benefited from frequently taking lessons from Mo Gyeong-joong, a pro golfer."
He also said he reduced the range of his back swings and increased unity between the body and arms in down swings, thus simplifying his swings. "As I gained confidence in my swings, I increased the accuracy and flying distance of my shots at the same time," said Kim, who ranks No. 1 in average pars (69.84) in this season's JGTO.
Kim still continues to dream about his advance to the US PGA tour. "I turn 30 next year. I will have a chance one day. I could take the path of Web.com Tour (secondary league of the PGA tour) or directly join the PGA tour through my performances at a major tour. I am checking various possibilities."
kjs0123@donga.com