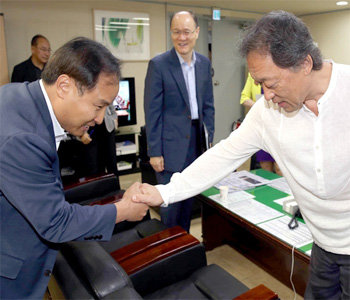 The Seoul Philharmonic Orchestra`s music director Chung Myung-whun made a surprise visit to Seoul Metropolitan Council in central Seoul on Monday, the first time he officially visited the place since inaugurating in January 2005.
Chung came to the council building at 10 a.m. and went up to the Education, Culture, Sports and Tourism Committee chairman's office on the fourth floor. The Seoul Philharmonic Orchestra`s CEO Choi Heung-sik who arranged Chung's visit accompanied. Soon after, a seminar was held in a closed session attended by leading and opposition party members of the committee, including committee chairman Lee Sang-mook (Saenuri Party). The meeting lasted for 75 minutes, much longer than the scheduled time.
During the seminar, members mentioned unfair use of airline tickets by Chung's family and loose contract, which had been announced by the Seoul Metropolitan Government in January this year, and asked for rectification. In response, Chung reportedly said, "I will make improvements regards to loopholes for the development of the Seoul Philharmonic Orchestra." The attendants said Chung's comments were an expression of regret. After the meeting, Chung told reporters, "I told people everything I can do for the development of our orchestra. I said we all have to gather efforts."
Despite the sensitiveness of the issue, the mood was amicable. People outside the meeting room heard four times of friendly laughter. The Seoul Metropolitan Council had requested a number of times for Chung's attendance when conflict between Chung and the Seoul Philharmonic Orchestra`s former CEO Park Hyun-jung rose to surface in December last year.
irontiger@donga.com