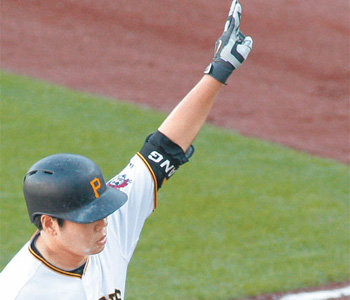 Kang Jung-ho of the Pittsburgh Pirates has claimed his very first multi-homer game (more than two homers in a single game by one player). His second homer became "Kang's 100th hit in the season" which made him doubly happy. Kang is the first Koran player who recorded 100 hits in the first year of MLB debut.
The shortstop's powerful batting in the second half of the year is producing far better performance than expected. His batting power stands at 0.621 and on-base (0.391) plus slugging percentage or OPS at 1.003. Kang is now a terror to opposing players. In his 32 matches in the second half of the year, He made 40 hits including eight homers with 16 RBIs and 22 runs scored. His batting average is 0.331.
In the 6th game of the season against the San Francisco Giants held at PNC Park in Pennsylvania on Sunday, the Pittsburgh Pirates won three to two with Kang's two homers and Starling Marte's walk-off home run, wiping out the disgrace of previous day's defeat. In the previous game where Madison Bumgarner, MVP player of the World Series, took the mound, Pirates lost six to four due to substantial loss in the early stage. Making a timely hit in the first confrontation with Bumgarner, however, Kang made a strong impression.
Manager Clint Hurdle of the Pittsburgh Pirates appointed Joshua Harrison as a fifth batter of third baseman, placing Kang as a cleanup hitter in the fourth in the lineup. In the bottom of the fifth when his team was losing 0 to 1 with the count of 2 to 2, Kang hit right-handed starter Mike Leake's fast ball of 146 kilometers per hour (91 miles) to center-right stand, tying the game. In the bottom of seventh when the fighting spirit was flagging due to Marte's poor base running (he tried to steal third base but was out), Kang hit opposing relief pitcher's fastball of 157 kilometers per hour (98 miles) to left-centered stand. It was Kang's fan-shaped homeruns that enabled his team to take the lead with 2 to 1. Tying the game 2 to 2 with wild throw of opposing relief pitcher Joakim Soria, Pittsburgh made its 73rd wins with Marte's walk-off homerun in the bottom of the ninth.
"I didn`t win the game. [Jung-Ho] Kang did. Kang won the game. He had two home runs," said Marte after the game. "It`ll probably present some opportunities for him to [bat fourth]. We`ve done it in the past. He`d definitely be a guy we`d need to look to," said Hurdle, giving him the game's lineup card for a gift.
In the Major League, a lineup card with players' names on is given to a player who made excellent performance. "I`m going to do my best to take it to another level," Kang said. "I don`t know how, but I`m working hard to take it to another level," said Kang.
moonsy1028@gmail.com