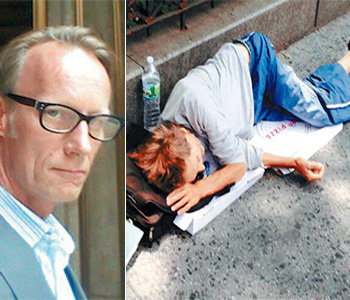 A famous line of "The Wolf of Wall Street," a 2013 Hollywood movie starring Leonardo DiCaprio, says that a stock broker should associate with drugs and prostitutes if he wants to get a life. The story is about a 20-something greedy stock broker in Wall Street in the 1990s who becomes wealthy, but who is later immersed in sex and drug parties, later to be arrested due to stock fraud and money laundering. The movie is based on the memoir of real person Jordon Bellport who ended 22 months of prison life and is now working as a writer.
The New York Post said Tuesday that another once famous Wall Street stock broker William King degenerated into homeless in Manhattan. The New York Sovereign Base Areas police service has recently started to put up photos of homeless people to arouse social attention on them, and one of the photos described King sleeping on a pizza box in the middle of the street in early afternoon. The media said his mother and younger sister, Christine, recognized him and contacted the media and SBA.
New York based King was once one of top stock brokers in Wall Street. After dropping out from New York University, he ranked within top 2 percent at the stock broker exam, and was fluent in five foreign languages, including French and Danish. The New York Post said he worked in Wall Street in the 1980s and 1990s, lived in a luxury apartment in New York, and drove a BMW car. However, he became addicted to the bottle and drugs. He married a single mother and started life in Florida, but soon got divorced. He then got a job at a TV network where his sister was working as a producer, but was fired as he often got to work drunk.
Christine said that her brother was raised in easy circumstances since young hood. But when he started living with her he stole money from her wallet and was addicted to drugs. She said she told him to hold himself together, and he ran away from home in January this year.
On Tuesday, Christine made a leaflet containing her brother's photo and went out to the streets of Manhattan with New York police. She said she would do whatever she can to find her brother.
Bellport, at an interview with the New York Post, said that he remembers King, adding drugs destructs people. He said he himself had been addicted to drugs, recalling that had gone mad that he once even felt that aliens were coming into the window of his office. He also said that he had not come to senses, he would now be homeless, adding that he really hopes that King's family find him and help him undergo rehabilitation.
bookum90@donga.com