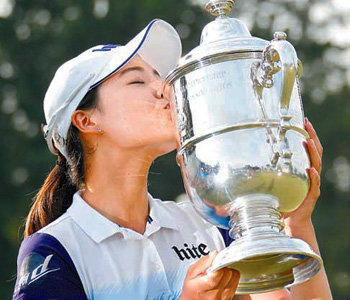 Jeon In-ji, 21, won a major competition for women with the longest history and the biggest prize money in the LPGA Tour.
In the 70th U.S. Women's Open that ended on Sunday at Lancaster Country Club (70 par, 6,289 yards) in Pennsylvania, the U.S., Jeon made the first appearance in the U.S. national championship for women as the fourth on the money list of the Korean LPGA. The 21-year-old Korean golfer shot a 4-under 66 in the final round with seven birdies and three bogeys. Finishing with a final score of 8-under 272, which is a tie for the minimum shots in competitions, Jeon edged out Amy Yang, 26, by one stroke. Jeon has become the player to win her U.S. Open debut since Kim Joo-yeon in 2005. The prize money for the first place was USD 810,000.
Jeon also has set a new record to win all three major titles in Korea, the U.S. and Japan LPGA. After winning the Korea Women's Open which was her debut to the KLPGA in 2013, Jeon won the World Ladies Championship Salonpas Cup, a major competition in Japanese LPGA, in May. By winning the U.S. Women's Open, Jeon has secured the qualification to play on the U.S. LPGA Tour for a year and raised her world ranking from 20th to 10th, which bodes well for her participation in Rio de Janeiro Olympics in the next year.
Jeon's nickname is "flying Dumbo (a baby elephant in Disney's animation)" thanks to her height (175 centimeters) and big ears. Like the animation character flying with big ears over the world, Jeon is heading toward a bigger stage as the next rising star female golfer in Korea following the suit of Park Seri and Park In-bee who won the US Women's Open in 1998, and 2008 and 2013, respectively.
kjs0123@donga.com