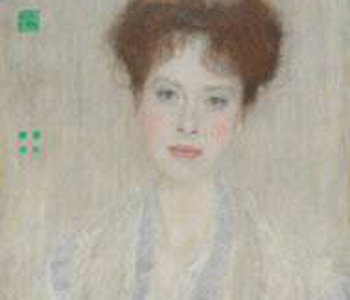 Major foreign media reported that a portrait of Gustav Klimt (1862-1918), one of the prominent painter in the 20th century, sold for 24.8 pounds (approx. 43.2 billion Korean won) on Wednesday at Sotheby's in London.
In 1902, Klimt completed the piece called the "Portrait of Gertrud Loew (photo)" who is the 19-year-old daughter of the artist's physician. Loew later married Hungarian industrialist Elemér Baruch von Felsőványi. After a 20-year long property dispute over the ownership of the portrait, Klimt's foundation and Felsőványi's descendants recently agreed to put it up for the auction. The specifics of both parties' agreement and the buyer's identity are unknown.
Well over the previously expected price of 12 million to 18 million pounds, the piece became the second most expensive artwork of Gustav Klimt. The 1907 work of "Portrait of Adele Bloch-Bauer" was sold for 135 million U.S. dollars (approx. 149 billion Korean won) in 2006 to Ronald Lauder, a descendant of American cosmetic firm Estee Lauder.
dew@donga.com