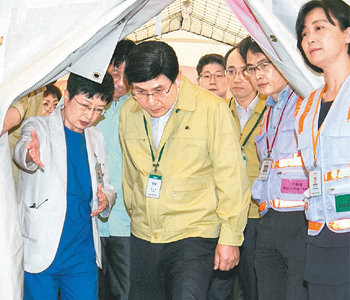 Prime Minister nominee Hwang Kyo-ahn was appointed as the 44th prime minister on Thursday after receiving a letter of appointment from President Park Geun-hye. The second-highest government position, which had been vacant for 52 days since the former Prime Minister Lee Wan-koo had stepped down, was finally filled.
President Park asked the newly-appointed prime minister to exert best efforts to spearhead efforts for eradication of Middle East respiratory syndrome virus (MERS), when presenting an appointment letter to Hwang. It was a request for Hwang to focus on the deadly virus for a while. Immediately after receiving the letter of appointment, Hwang visited the National Medical Center located in central Seoul, which is at the forefront of anti-epidemic activities and patient treatment.
"The life and safety of people are the foremost value in a nation`s reason for being, and I am feeling the heavy responsibility for the continuing anxieties over MERS. As a control tower, I will stand in the vanguard of the eradication of MERS," Hwang said at the medical center. "Many medical professionals are enduring difficulties and making best efforts to provide medical care to MERS patients. I expect MERS to be eradicated soon as Korea's medical service personnel are armed with excellent skills and deep sense of calling."
After visiting a community health clinic in Jung-gu, Hwang presided a meeting of the pan-governmental countermeasures headquarters for the first time. The government has decided to expand the daily briefing led by the acting Prime Minister Choi Kyung-hwan to the pan-government meeting. The appointment ceremony was held 6 p.m. at the Central Government Complex in Seoul, after completing all official schedules including visits to sites for anti-epidemic efforts and the meeting.
On Thursday morning, the National Assembly endorsed the appointment of Hwang in a 156 versus 120 vote. Out of 298 lawmakers, 278 participated in the voting and two abstained. Although it was a cross voting where lawmakers can cast a ballot regardless of their party platform, the ruling party members voted for and the opposition lawmakers voted against the nominee, showing a big gap between the ruling and the opposition parties.
egija@donga.com