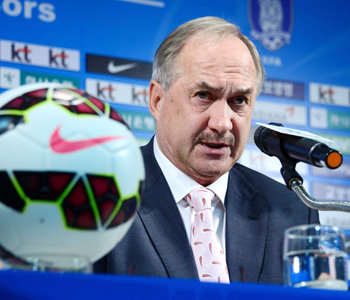 "There is enough reason for Korea's low FIFA ranking (58th)."
Korean national football team coach Uli Stielike spoke his mind about Korean football's reality. The Korean team is currently training in Malaysia ahead of a warm-up match with the United Arab Emirates on Thursday and a game with Myanmar team on June 16, which will be the first match for the second preliminaries for Russian World Cup 2018. At an interview with Yonhap News Wednesday, Stielike pointed out the problems of Korean football by positions of players. He said defenders lack the ability to shift to attack, midfielders creativeness and strikers goal decisiveness. He noted, "Korean players excel in patience of enduring tough training, but lack creativeness and don't move aggressively. One major problem is that a player remains stagnant after passing the ball."
On nomination of the final members of the team, he said, "I will try out as many games as possible including the K-League Classics and Challenge. Competent players will be named any time. One example is Busan's Joo Se-jong who's currently falls behind at the 11th ranking in the Classics." When asked whether he's sensitive to responses by fans and the media, Stielike said, "National team coach is a post subject to criticism. But if we stick to our principles and show good performance, we can overcome negative evaluations."