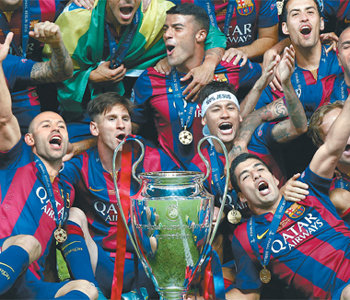 Up for the finals for the 2014-15 UEFA Champions League, manager Ruud van Nistelrooy for the Dutch National Football Team predicted that it's in fact impossible for Juventus (Italy) to stop Barcelona (Spain). On Sunday, his prophecy came true. At the finals for Champions League at Olympiastadion in Berlin, Germany, FC Barcelona with goals of Suarez and Neymar won Juventus 3 to 1. With the victory this time, Barcelona won a total of five matches after four seasons since the 2010-2011 season. Following the victory in Primera Liga and Spanish Cup, it won the title of "triple" victor.
This season the "MSN" scored 122 goals, out of which Messi made 58, Suarez 25 and Neymar 39, respectively. Of the 175 goals that Barcelona made this season, these account for 69.7 percent. Of the 143 assists, 63 or 44 percent were made by the three. Messi made 30 assists, Suarez 24 and Neymar 11.
With Suarez in the team, Barcelona's striking power has doubled. Compared to the 2013-2014 season with 141 goals, it had 34 more goals this season. Having made 41 goals and 16 assists last season, Messi himself has showed better performance for scoring goals and making assists.
During the 2008-2009 season when Barcelona had a triple, the three of Messi (38 goals), Samuel Eto`o (Cameroon, 36 goals) and Thierry Henry (France, 26 goals) made combined goal score of 100. During the 2010-2011 season, the "MVP" produced 98 goals with Messi of 53 goals, David Villa from Spain of 23 goals and Pedro Rodríguez from Spain of 22 goals.
"I've played with so many wonderful forwards over the years. But I have to say that it is hard to top lining up alongside Neymar and Suarez," said Messi before the finals. "Barcelona used to have great attackers such as Henry and Eto'o, but the triangle-formation of MSN is completely different," said Andrés Iniesta.
There is another legend of triangle-formation who dominated the global soccer and lead the best days of the Netherlands soccer in the 1980s: "Trio of Dutchmen" consisting of Ruud Gullit, Marco van Basten and Frank Rijkaard. They lead the Netherlands to win the 1988 UEFA European Football Championship and brought the second straight victory during the 1988-1989 and 1989-1990 seasons under Italy's A.C. Milan.
elegant@donga.com